Are there reliable websites like Coursera
Java programming made easy - the best Java tutorials
With the object-oriented programming language Java, software developers create professional applications for different platforms and systems. There are a large number of good tutorials online that convey the basics of Java programming in a clear and sometimes playful way. In the following you will get to know the best Java tutorials for beginners and advanced users.
What is java
The programming language was developed by Sun Microsystems in 1995 and came onto the market with the Java Development Kit (JDK) including the Java Runtime Environment (JRE). The JRE contains the Java Virtual Machine (JVM). In order to meet the requirements of different platforms, there are among others Java ME for mobile applications and Java EE for enterprise applications. Java is used for the development of web applications and software. The code is saved in files with the extension .java and must be compiled before it can be executed.
The best tutorials for Java programming at a glance
Whether you are an absolute beginner or an advanced learner with questions on a specific topic, you can find answers on numerous websites that offer courses and tutorials on everything to do with Java programming. We show you a selection of the best Java tutorials.
Udemy - huge range of courses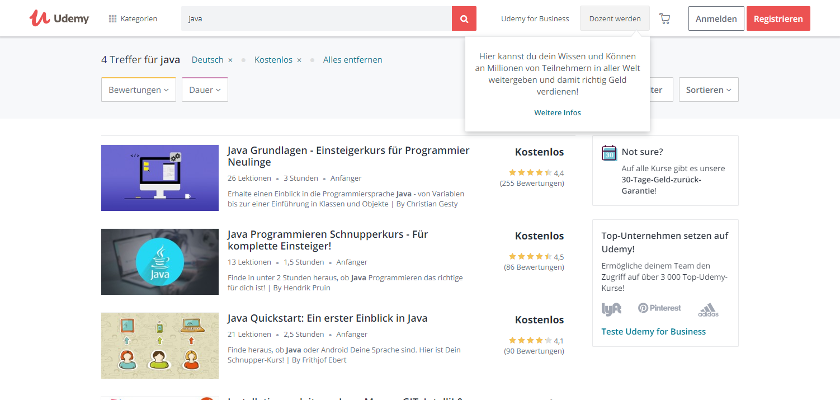 Figure: Udemy offers free and paid Java tutorials and courses
Udemy is one of the largest online course platforms on the Internet and offers more than 100 free Java courses with tutorials. For a fee, the offer grows to over 1,000 courses. The courses can be clearly selected according to language (including German) and the level of difficulty. The number free German language courses is limited, however, four courses are currently offered (as of 10/2018).
To Udemy
Coursera.org - video tutorials in English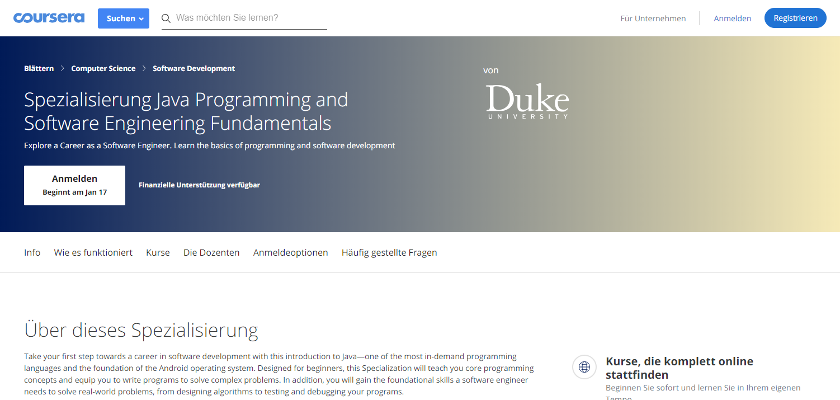 Figure: Coursera offers Java courses with tutorials for beginners, advanced and professionals
On the Coursera platform you will find a large selection of high quality online courses on a wide range of topics, including Java programming. In the "Java Programming and Software Engineering Fundamentals" course you will learn the basics, the "Java for Android" course is suitable for mobile applications and advanced users will find more in-depth courses. The video language is English, with some German subtitles.
Go to Coursera.org
Codecademy: Learn Java programming with tutorials and a forum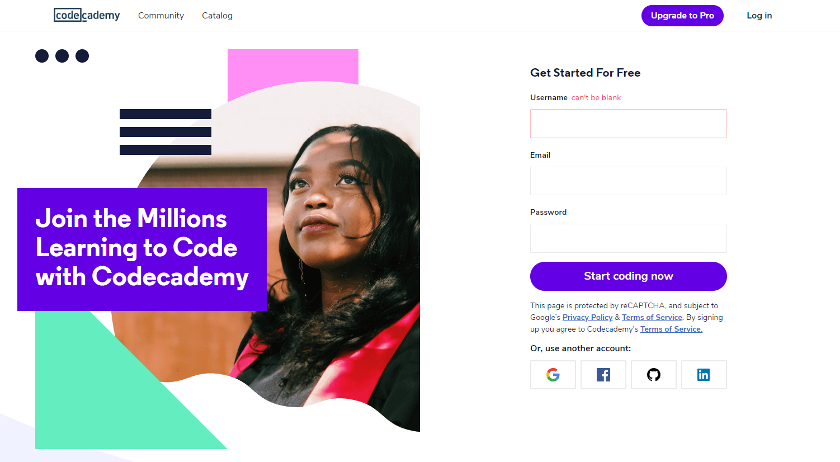 Figure: You can find first-class Java tutorials on Codecademy
The website Codecademy is one of the best sources for high quality and free Java tutorials. The courses in English are aimed at beginners and advanced learners, participation is possible after registration. To increase motivation, there is, among other things, feedback and badges for completed learning content. You can exchange ideas with other learners in the forum.
To the Codecademy
Treehouse uses gamification to increase motivation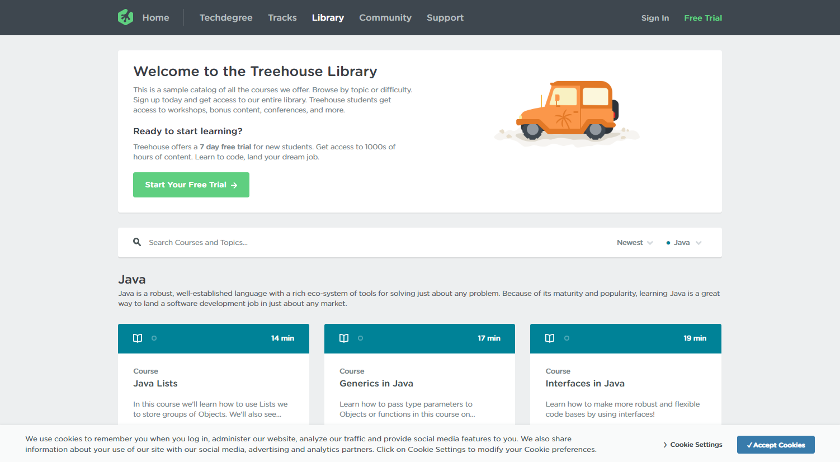 Figure: You can find useful Java tutorials with exercises on teamtreehouse.com.
On the website Treehouse you will find more than 1,000 videos on various topics related to programming and web design. The Java programming language is explained with video tutorials, followed by exercises to consolidate the content. You will receive an award for correct answers and will continue to be motivated. The language of the courses is English.
To Treehouse
Learn Java programming in German with Video2Brain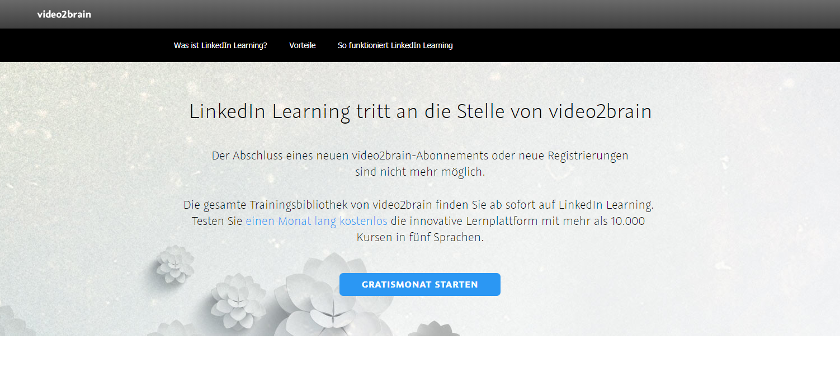 Figure: You can find Java tutorials in German and much more on Video2Brain
The Video2Brain website is a good choice for German-language Java tutorials. Here you will also find courses on PHP, HTML and CSS as well as content for web designers, graphic artists and photographers. The courses can be purchased individually or as a monthly subscription. A ten-day trial version is available to try out.
To Video2Brain
Java Code Geeks with tutorials and eBooks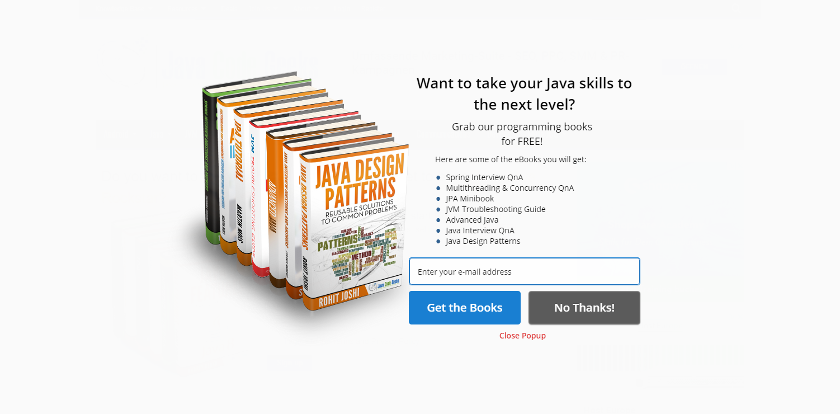 Figure: Java Code Geeks offers Java tutorials, code examples and eBooks for download
The Java Code Geeks offer includes tutorials as well as code examples for free download - a plus compared to other websites. You can learn different types of Java programming on the platform. These include Core Java, Desktop Java and Enterprise Java. EBooks and entire Java projects are also available for download. There are also courses on other programming languages ​​such as Jruby, Scala and Kotlin.
Go to Java Code Geeks
Learn Java programming with Learn Java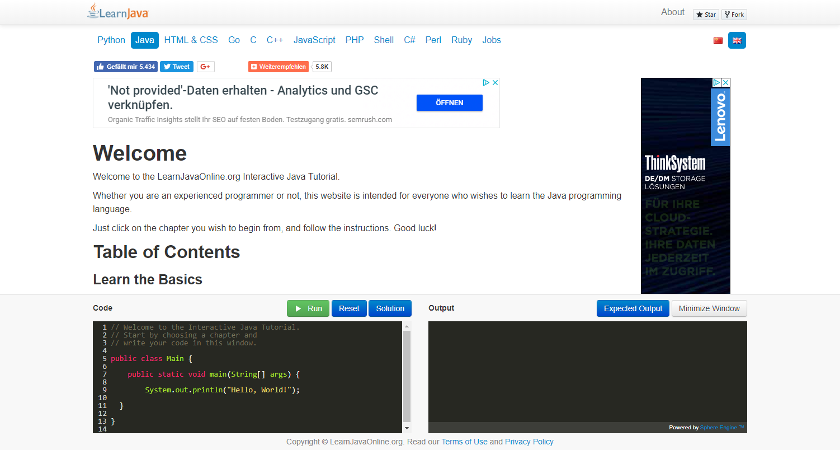 Figure: Learn the basics of the Java programming language with Learn Java and interactive tutorials
On Learn Java you will find free and interactive Java tutorials for beginners and advanced users. Code can be tested right on the website, so you can learn from your own mistakes faster. In addition to Java, tutorials for other programming languages ​​such as PHP, Python and JavScript are offered.
To Learn Java
Conclusion: Java programming from A to Z
There are numerous free and paid tutorials on all aspects of Java programming on the Internet. Beginners and advanced learners can learn on their own, and websites with gamification elements provide additional motivation. Try it!
Photo credit: Pixabay Free Pictures
More articles on the topic: