What is the history of the CBC
25 years of CBC - reloaded
The conversation focused on changed market conditions, opportunities and challenges of digitization and the future of private television.
CBC was founded 25 years ago. In some industries, that's half an eternity - and the TV industry is certainly one of them. Much has changed in the television world since it was founded in 1994: technologies, markets - and viewers too. Basically, however, according to Thomas Harscheidt, for CBC it is still about the production and post-production of content, its broadcasting and distribution and about technology and IT. "That corresponds exactly to the description that CBC had in 1994. However, the methods and means of implementing this have changed massively. «. So today there is more software than hardware in use, adds Harscheidt.
look back
"Our story basically consists of many seized opportunities," says Thomas Harscheidt. The first of these opportunities was probably the most important: When CBC was founded as a separate company from the production and transmission technology unit of the TV station Vox in 1994, it had to position itself in the market. "We seized the opportunity. Viva played a central role in this, and together with the station we experienced the best years of music television in Germany, "says Thomas Harscheidt.
As further milestones he mentions the construction of the broadcasting center for RTL II in Grünwald near Munich and in 2006 the beginning of the cooperation with the German Football League (DFL), for which CBC took over the international production and distribution.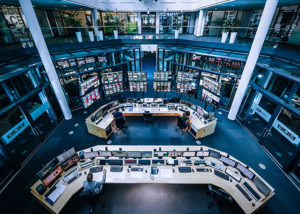 »The most important change came with the founding of Mediengruppe RTL Deutschland. CBC became part of it «, summarizes Harscheidt.
At that time, CBC brought all the technical and operational units of the RTL units together in the new broadcasting center in Cologne-Deutz. »That was a dream: from 2006 to 2009 we were able to create something completely new» on the green field «and detached from everything. For us it is a great opportunity that you only get once in a lifetime, if at all, "Harscheidt sums up.
Other influential developments were more market-driven: for example, the change from 4: 3 to 16: 9, from SD to HD. The platform business and the new forms of distribution on smaller and mobile displays were added later.
CBC: Also successful as a service provider
A significant proportion of CBC sales come from external customers. One of the largest of these is the DFL - with Sportcast and Digital Sports. But other broadcasters and production companies also use CBC as a production partner.
Thomas Harscheidt emphasizes how important this external business is for CBC - after the move and integration into Mediengruppe RTL, more than ever, because »for us this is proof that we are able to assert ourselves in the market and enforce, but also confirmation for our internal colleagues. Anyone who has been with us once as a customer usually comes back, «says Harscheidt.
Lessons learned
Thomas Harscheidt believes that CBC has done a lot of things right since it was founded - and that the new start in Cologne-Deutz also made things easier: "We didn't take any tape or MAZ with us and very consistently cut off old braids. Moving to Deutz definitely helped us with that. This can also be seen from the fact that in 2019, for the first time since the move, we will see a major wave of technology renewals. "
If there is one lesson that can be learned from it, it is that it makes a lot of sense to build new technologies in islands and separate them from the rest so that you can plan and design them without legacy. Although this is not always easy - also from a safety point of view - it is definitely worth striving for.

CBC video about the company's current range of services.
Page 1: CBC - look back, company video
Page 2: From broadcast to unicast, UHD / HDR and current trends, video »UHD / HDR insights«
Page 3: Total video, employee development, looking ahead