It doesn't work without math
The questions are simple and have not changed since football was played: what do we actually have to do to win the game? And which players will help us with that? When it comes to answering them, however, very different game philosophies and cultural ideas are expressed: Defensive versus offensive, work versus art, sophistication meets straightforwardness and fans of short passes meet long passes. There will also be ardent supporters from all schools of thought at the upcoming World Cup. They have long since ceased to exist in line with national stereotypes - some South American teams are sober and rock hard, while the German team under Jogi Löw's management has long been elegant in the Mediterranean. But is there actually a right way to win? So far, there are just as much arguments for preferring certain styles as for the opposite. Actually, in such discussions beliefs are negotiated rather than truths. What really leads to victory cannot be proven. Not yet.

Historic turning point
Because at the moment football is facing a turning point from perceived truths, from pure assertions or even systematic perceptual errors to real findings based on the evaluation of data. Football experienced its first data revolution 20 years ago when suddenly a flood of numbers was available. Every pass, every shot and every meter run on the field was recorded by thermal imaging cameras. The enthusiasm quickly spread that the game would soon be deciphered. He was cheered on by the success story from another sport. When the story of baseball manager Billy Beane was filmed in Hollywood with Brad Pitt in the lead role, "Moneyball" became synonymous worldwide with how a battered underdog can gain a competitive advantage with the right understanding of data. That should also be possible in football!
But then football turned out to be much more complex than baseball. There are eleven players on a huge area constantly on the move to try something incredibly complicated: kick the ball into a goal. The numbers and the game often did not come together, they were alien to one another. What it looked like can be understood from the dates of one of the most famous games in football history.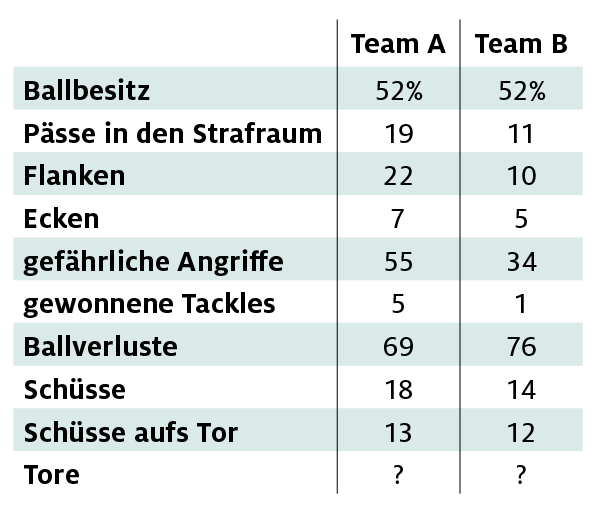 The game was not won by team A, to which team B was inferior in all categories. Team A even lost dramatically, as Germany beat Brazil 7-1 in the legendary semi-finals of the 2014 World Cup. The result was: The old tally sheets, in which you count actions on the pitch, are not good because there is no reliable connection to victory and defeat on the pitch. A data hangover spread.
But the digitization of the game has advanced, we now also know exactly where an action is taking place on the pitch. So we not only count a pass, but also from where to where it was played, how long it was, whether the passer was harassed or the player who accepted it. Computers are able to work with hundreds of thousands of such information; quantitative information has become qualitative information. At least if you carry out the right arithmetic commands.

The right data decide
At the end of 2016, the sports computer scientist Daniel Link from the Technical University in Munich published a scientific article in which he introduced the new English word "Dangerousity", which could be roughly translated as "Dangerousness". With the help of an elaborate algorithm and a wealth of game data, Link calculated how great the goal risk the team is developing on the ball. In every second of the game you can see how well a team is attacking or the opponent is defending. You can see how the value rises, for example, through dribbling, but falls through the subsequent pass to the wrong man. Link had previously worked as a computer scientist for the German foreign secret service and later wrote a program for analyzing opponents for the German beach volleyball players - in 2012 and 2016 they won first for men, then for women. His concept of "dangerousity" aroused great interest among football practitioners because it enabled them to check which actions on the pitch increase the chances of success. When Link met FC Barcelona employees at a conference, they immediately invited the German scientist. You had already worked with his algorithm, but you still have a few questions ...
Manchester City, Liverpool FC and FC Bayern are now also researching behind closed doors into digital match analysis. They either employ high-ranking scientists in the clubs themselves or invite experts in data analysis and artificial intelligence for internal training. There has long been a race between the top clubs for knowledge advantages that are supposed to provide a competitive advantage.
In this country, the German Football Association has long been dealing with these questions. The DFB will build an academy in Frankfurt whose tasks will include cutting-edge research. At the moment, the national team's analysis team is mainly working on various fields to ensure that the team is optimally prepared for the games. This not only includes first attempts with virtual reality in training for correct behavior in game situations, but also a large data project with the company SAP. The focus of the questions is how to control the space and thus the opponent on the field. A question that is very similar to the concept of "Dangerousity".

The right scouting
This is still an experimental field, the German team will not unwind any computer programs or their specifications at the World Cup in Russia. Until then, the most important area of ​​application for data analysis is player engagement. This also explains why the top London club Arsenal FC invested a transfer fee in a Scout in the spring of 2018. That had never happened before in the history of football. But as head scout at Borussia Dortmund, Sven Mislintat not only had a diamond eye when signing players like Shinji Kagawa, Pierre-Emeric Aubameyang, Ousmane Dembélé or Christian Pulisic.
More importantly, he had made lasting changes to the scouting process. You can see how this works when you sit next to Mislintat at the computer and start looking for a left-back, for example. The "Scoutpanel" program co-developed by Mislintat enables him to filter out the desired players from 13,000 players around the world. The search is based on a wealth of parameters, from age to strength of the league and, crucially, the profile of the skills: How offensive should the player being sought be, how many crosses should he contribute to the game, how strong should he be in tackling or in header duels? Mislintat has entered a profile of what the wanted full-back should be able to do, and within seconds the gigantic selection soon purrs to a handful of players. He can even take into account parameters such as "performance stability", which are particularly important for young players, whose performance often fluctuates significantly. If you don't keep an eye on them, strong and weak performances level out and outstanding talent is not captured. It was the case with Ousmane Dembélé, whom Borussia Dortmund resold after a year for 100 million euros more than the club had paid for him.
But Sven Mislintat is not a guru of a new age of data football, but a man looking for the best players. In Dortmund he combined the talent evaluation on the computer with the expert knowledge of his scouts in traditional player screening when signing players. Because that's what the transfer market is all about: making better decisions about which player you are willing to invest which amount. And that also means not surrendering to the algorithms alone.
The advanced analysis of data makes it possible not only to better evaluate the performance of players, but also that of coaches. An example of this is the Swiss Lucien Favre, who was successful almost everywhere. In Switzerland he even won championships and trophies with his clubs, at medium-sized clubs like Borussia Mönchengladbach in Germany or the French OGC Nice he could not win any titles, but produced such enormous statistical outliers that he became a candidate for top international clubs.

The final secrets remain
The fact that football is facing a massive digital turnaround does not mean that it will be deciphered tomorrow. The game remains too complicated for that and the interpersonal factors are too important. A good team without cohesion will always have a hard time against a worse team with a lot of team spirit. But data analysis will, on the one hand, continue to transform football in understanding what is happening on the pitch. And in view of the huge investments in transfers, it is now downright negligent to forego this when making player commitments.
Or as Sven Mislintat, the millionaire scout, says: "Moneyball alone doesn't work, but it doesn't work without math either."
---
Book tip


Christoph Biermann
Matchplan - The new soccer matrix
Kiepenheuer & Witsch
288 pages, softcover with flaps
14.99 euros
kiwi-verlag.de