Medion Akoya P4130: Aldi PC with AMD CPU in the test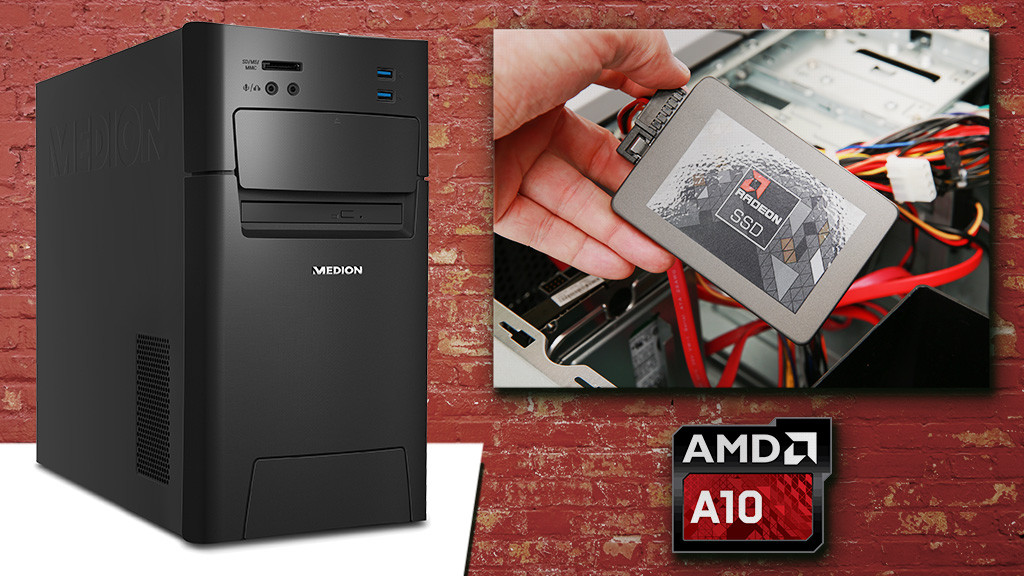 Does it always have to be a PC with an Intel CPU? COMPUTER BILD has tested how fast the new Aldi computer works with its AMD processor.
The Aldi PC was not a high-flyer in the test, but the offered performance fits the price of 499 euros. The Medion Akoya P4130 D did not make any major mistakes in the test; it offers a high speed and decent equipment. In addition, it needs little power and is pleasantly restrained with fan noise. If you like, you can easily and cheaply upgrade it to a PC suitable for games.
Fast work pace
Hard disk (1863 GB) and SSD (224 GB)
WLAN-ac, Bluetooth 4.0le
Low energy consumption
Unsuitable for graphically complex games
A bit noisy under full load
Eight out of ten PCs and notebooks worldwide work with processors from Intel. Devices with AMD CPUs? In short supply. That could change from August 25, 2016. Because on this day, discounter Aldi puts a Windows 10 PC with an AMD processor in its northern branches. The price: a confident 499 euros. Does the Medion Akoya P4130 give customers a fast, fully-equipped computer?
Medion Akoya P4130: Product and detail photos
Simple case without decorations
Externally, the current Aldi PC is indistinguishable from the last models: The case, which has now been in use for about a year, is simple, thanks to the slightly structured surface, ugly fingerprints are hardly visible. Only a small logo under the hot-swap frame attached for quick retrofitting of hard disks reveals that an AMD processor provides the necessary propulsion here.
A rare AMD CPU works in the new Aldi PC with the A10-8750. Is the Medion Akoya P4130 still fast? COMPUTER BILD has tested it.
Medion Akoya P4130D: Aldi PC with AMD CPU in the test
CPU not available in stores
AMD presented the CPU A10-8750 at the end of 2015, but so far it has remained largely hidden from the public. Price comparisons such as idealo did not list it at the time of the test, nor could it be found in online retailers such as Alternate. Only AMD knows why this is so. The A10-8750 is, however, a very potent mid-range model, whose four cores can be clocked at up to 3.6 gigahertz if required. Also on board: the Radeon R7 graphics chip, which is responsible for displaying images. The processor uses a properly sized 8 gigabyte RAM, a fast SSD for Windows and programs is also on board.
Graphics card test: results in detail
Decent pace of work
This configuration turned out to be well thought out in the test, because the pace of work with Internet and Office tasks was high. The speed dropped a bit during exhausting photo and video editing, but it was still acceptable. What the testers had expected in advance, however, made the tests a certainty: The graphics chip housed in the CPU is too weak for the smooth playback of complex games.
Games PC with separate graphics card
So if you want to gamble, you have to retrofit a graphics card. And that works without any problems, because the Medion offers a free PCI Express slot of the x16 version as well as a free, six-pin power connection from the power supply unit. COMPUTER BILD has installed the brand new AMD graphics card Radon RX 480 (250 euros) - and thus drastically increased the game speed: Instead of a jerky 13 frames per second, the Medion beamed very smooth 96 frames per second to the monitor after the expansion. For customers who want to play graphically complex games, retrofitting a separate graphics card is a worthwhile and manageable investment.
2.5-inch SSDs in the test: results in detail
Almost complete equipment
Otherwise, the standard equipment is almost complete: The Medion already goes online with the fast WLAN-ac standard, and Bluetooth for data exchange with smartphones is also standard. Great: In addition to the fast SSD, there is also a hard drive with plenty of storage (1.86 terabytes) - and a DVD burner is also on board. Only a DisplayPort for connecting newer 4K monitors is missing.
Economical and almost always quiet
Also good: The Akoya P4130 D worked almost always quietly in the test, its fans were only audible under full load. Top: With an average power consumption of only 45.5 watts, the Medion was very economical.
Related Links
Do you like this article?