Why are Trump's tariffs for China not unconstitutional?
Immigration: How Realistic Are Trump's Election Promises?
Donald Trump has repeatedly promised in the presidential election that a "big, beautiful wall" will be built on the border with Mexico. Can he implement his project?
"He can at least start with it," says Stephen Yale-Loehr, professor of immigration law at Cornell University. He is co-author of a 21-volume standard work on the subject. "The Ministry of Homeland Security has funds that are intended for border security and immigration control. Trump can instruct the Ministry to provide some of the funds for building a wall."
"Under current law, he can implement part of it," says Cristina Rodriguez, professor of law with a focus on immigration law at Yale University. "But in order to build the beautiful, great wall that Trump spoke of, Congress would have to approve the provision of appropriate funding."
Both scientists believe it is likely that Congress will provide additional funds for the construction of the wall, at least initially. However, they cannot imagine that a wall will actually arise along the entire American-Mexican border in the next four years.
Can Trump, as President, in accordance with his election promise, all illegal immigrants or - as he announced later - all of them criminal record deport illegal immigrants?
In principle, Trump, as President, could accelerate the deportation process without the approval of Congress, according to the experts. But in order to deport all eleven million unregistered immigrants soon, or even just those with a criminal record, additional funding would be necessary due to the bureaucratic effort. These, in turn, would have to be provided by Congress. For example, much more judges specializing in immigration law would need to be recruited because every single immigrant accused of being illegally in the country has the right to a trial.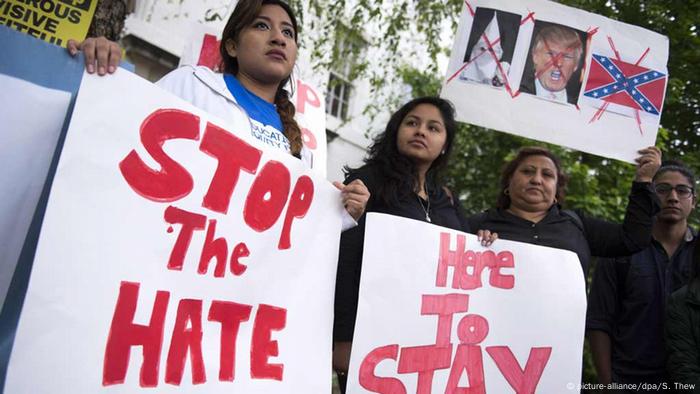 Immigrants protest outside the Republican Committee building in Washington, D.C. in May 2016.
"Every government has to decide which group of people it wants to focus on," says Yale-Loehr. "For the Obama administration, for example, criminal foreigners have the highest priority. I think Trump will do it similarly, only more intensely. Perhaps he will reinterpret crime and, for example, define people as criminals who are accused of a crime but not yet He can do something like that without the approval of Congress. "
"I think the policy will change in the way that more people are targeted by the authorities who have only committed minor fines," says Cristina Rodriguez. "Trump has spoken several times of two to three million criminal foreigners. The number 'three million' in particular seems very high to me. Whether that means that Trump also wants to concentrate on illegal immigrants who have not committed a capital crime, I don't know. But if the police and authorities are open to this idea, that could happen. "
As president, can Trump keep his election promise not to accept any more Syrian refugees and to expel those who are already in the US?
"He can certainly stop the admission of refugees," says Rodriguez. "Through a selection process, the president can determine every year how many refugees from which countries he wants to take in. So he can easily say 'No refugees from Syria this year.'"
"He cannot simply throw refugees who are already in the US out of the country. You would have to be able to justify legally why they should not be here, for example because they are alleged terrorists or have committed crimes. But even in such a case they would have." the refugees have the right to a trial before they are expelled from the country, "says Yale-Loehr. "I think the whole thing is an empty threat."
As President, can Trump generally prevent Muslims from entering the United States, as he originally announced? Can he, as he later proposed, prevent immigration from certain regions at risk of terrorism?
Trump could not enforce an entry ban for all Muslims because that is most likely unconstitutional, so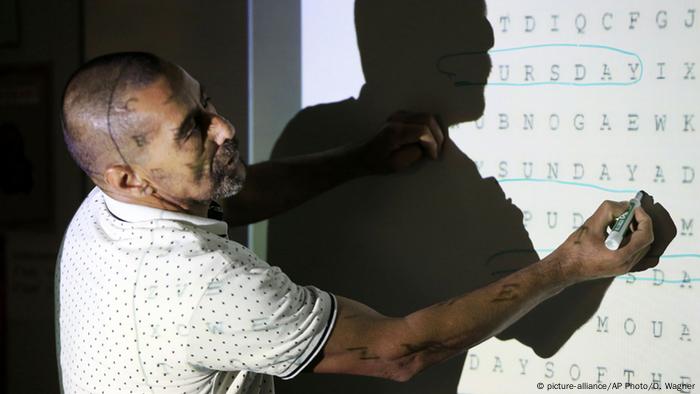 The USA has so far taken in relatively few refugees from Syria
Rodriguez. Both scientists, however, agree that Trump can prevent people from certain countries and regions from entering the United States.
"He can certainly introduce stricter controls on people from terror-prone countries," says Yale-Loehr. "In a way, we did the same thing after the September 11, 2001 terrorist attacks. At that time, we controlled people outside the United States more closely, and it was ordered that immigrants inside the United States who came from those countries should join registered with the Immigration Service. "
What do Trump's plans mean for the US, which is traditionally considered an immigration country?
"Overall, I think immigrants will be less welcome here in the next four years because Trump has made clear what his message is: 'America first,'" says Yale-Loehr. "I think some people will not even be able to enter, while others will have to wait longer due to more intensive controls."
"I think there is enough reason to be pessimistic," says Rodriguez. "I expect that there will be a lot more talk about enforcement and that the target group will be expanded. I think the Trump administration's rhetoric will be significantly more negative towards immigrants and will certainly have an impact on society regardless of the number of those who actually come into the country. "