What topics should I write about
45 good topics to write in WhatsApp chat
You recently started writing with this attractive girl ... but now you don't know how to keep your chat conversation going? And you are afraid that she will lose interest because of sheer boredom?
No panic! I'll tell you 45 exciting topics about writing with women on WhatsApp. As a man, you build a magical attraction while flirting, so that she absolutely wants to meet you on a date.
45 interesting topics to write about on WhatsApp
First of all, the most important rule: When flirting via WhatsApp, you should never send boring messages to the woman. Avoid empty phrases and questions like:
"Hi how are you?"
"How was your day?"
"You are really a pretty girl" (as well as every other slimy compliment!)
"What do you do for a living?"
If you send her such dreary messages while chatting, it can happen that the woman no longer text you back. Because she expects you as a man to tear her out of her boring everyday life and spiritually abduct her into an exciting world!
You'd better send her these fun and creative questions to get to know each other via WhatsApp so that it becomes an exciting conversation!
In order to reach her heart while flirting on the cell phone, you can also bring these interesting questions and topics of conversation that also work in communication on a real date.
So enough material so that you are well prepared!
Here are 45 topics to write about:
To get to know: hobbies and interests
Personal interests from the fields of music, sport, culture and film are always the right way to start a conversation. The best topics to write with women here are:
1. Your (possibly common?) Hobbies that you pursue with passion
2. Your favorite book
3. Which TV series she is currently watching
4. Does she do sports regularly - and if so, which ones?
5. What music she likes to listen to
6. Where is the next vacation going?
7. Does she have pets?
8. What is your favorite food
9. Which clubs and bars in the city she prefers to visit
10. Does she like to go to concerts and festivals?
11. The last cinema trailer: Will this be a good film?
12. Does she sometimes hang around in exhibitions and museums?
13. What she prefers to eat for breakfast
14. Your favorite animals - and why
15. Which cities she has already visited
16. What was the last really good drink she was allowed to enjoy?
17. Do you prefer sightseeing, hiking or a beach vacation?
Funny topics to make them laugh
The girls love positive emotions when flirting and feel most comfortable with humorous men. If you can make a woman laugh with these funny topics on WhatsApp, that's half the battle:
18. Ask if she has a strange neighbor with strange habits
19. What do extraterrestrials look like if they really exist?
20. Your favorite comedy or cartoon series
21. Which resident of Duckburg / which famous celebrity is actually gay?
22. What embarrassing things you did as children
23. The craziest experience at a party
24. Until when you still believed in the Easter Bunny or Santa Claus
25. The funniest commercial she remembers
26. What embarrassing clothes you wore in your childhood and youth
27. Sins of youth: Have you ever been in a real alcohol or drug intoxication?
28. Whether she can speak a dialect (what she should send you via WhatsApp voice message or demonstrate live on the next date)
29. Has she ever done something forbidden?
30. Ask if she has kissed a woman before
By the way: Write her THAT - and she'll say "Yes" to the date!
In order for your dream woman to write back to you enthusiastically via SMS & WhatsApp and to agree to every date suggestion, you also have to send her THIS magical message!
All of my successful Flirt & Dating clients use this text method.
But the worst part is: 99% of all men will never know this secret. That's why they don't get an answer while chatting and stay single forever!
My decisive question for you: What kind of man do YOU ​​want to belong to?
If you want to inspire the woman TODAY in WhatsApp and arrange a dream date ...
.. then click on the now "Play button" and benefit from my knowledge in this short video!
Personal experiences and life situation
If you've gotten closer while chatting on WhatsApp or even had a date, you can also start with more personal topics while writing:
31. Ask if she has siblings and what they do
32. Your family and your relationship with them
33. Dreams: What else does she want to achieve in life?
34. Ask what she would do with one million euros
35. The most embarrassing thing she's seen lately
36. Is she afraid of spiders or other animals?
37. Does she believe in magic and the supernatural?
38. Ask what 3 things she would save from a burning house
39. Your place of origin, if it is not from the city or the country
40. What else does she want to achieve professionally?
41. Send each other pictures on WhatsApp how you looked as children
42. Were there situations where she overcame her fears?
43. What resolutions has she made (e.g. on New Year's Eve)?
44. What she would do if she could be a man for a day
45. Can she imagine emigrating one day?
Writing with women or girls in WhatsApp: 8 more rules
It's not just about having the right topics of conversation when writing with women. You should follow a few rules when communicating via WhatsApp so that you can get the girl on a date:
1. Always write something about yourself in the chat!
Okay, with the ideas above you can make the lady talk wonderfully - possibly like a waterfall.
But if ONLY the woman deals with all of these topics of conversation, she will feel like in an interrogation and think: "Why does he not tell anything about himself, but only lets me say something on the subject?"
Therefore, make sure to contribute your own experiences, feelings and opinions on each of the topics addressed. So she gets to know you better at the same time and builds trust in you!
2. Don't send too many messages!
Most men bombard women with loads of WhatsApp messages once they find a topic to write on.
With this intrusive behavior you suddenly make yourself uninteresting. First of all, she now knows that she can have you safe, which takes any tension out of the flirt.
In addition, she then thinks that if you can always answer so much, so often and so quickly on WhatsApp, you have to have a damn empty life.
Therefore, write few, well-dosed messages. So she will sit there and wait longingly for your next answer to come. This is how the girls get real stomach tingling!
3. No negative topics when writing!
Even if it should actually be clear: Disagreeable and sad topics of conversation such as religion, politics or death are taboo when writing with the woman in WhatsApp. You don't want to evoke negative emotions while flirting ...
Football is a classic men's subject that should also be treated with caution, unless they really run into the stadium every weekend.
You should also refrain from commenting on your ex-girlfriend, because then your chat partner will believe that you might blaspheme about her after a failed relationship!
4. Tease instead of compliments!
Women don't like submissive slugs at all - neither in real life nor when writing on WhatsApp. Instead of compliments, you should therefore tease your chat partner.
For example, send her messages like:
"What, do you like to watch the Twilight movies? If this continues, I will unfortunately have to file for divorce :-) "
"You really have a weird sense of humor :-P"
"Are you going to buy me such a cute dog? ;-) "
But always use laughing emojis so that she really understands your message as fun, and not as an insult.
5. How to write forever about topics
For most men, a topic of conversation quickly fizzles out because they are satisfied with the first answer that the woman gives.
For example, she wrote you that she likes dogs? Then ask why they are their favorite pets. Or why she likes to travel to London, for example, when you write about vacations ...
You don't have to write exactly this topic on WhatsApp all the time, but can jump to the next using associations.
The girl talks about Hawaiian toast for breakfast - you then (keyword "toast") about the crazy ALF from the TV series who wanted to put the cat in the toaster - then she talks about her favorite series on Netflix etc.
Sounds weird? Remember: Conversations are never "logical", but always a bit chaotic, so let your imagination run wild!
6. Change topic if you are not interested
Important: Don't mess around on a topic of conversation if you notice that the woman is not interested in the topic. When writing in chat, watch out for the following signals of disinterest:
Short, sober answers
No smileys / emojis
It takes a long time to write back
If you notice something like this, you should change the subject quickly before the thread of the conversation breaks!
7. Send voice messages and pictures
WhatsApp today offers a lot more options than just about specific topics write. Instead, you can just as easily send your message to the woman or girl as a voice message.
The advantage: She then hears your voice, which is much more personal to get to know than a plain text. In addition, most men do not dare to do something that makes you appear as a self-confident guy.
You can also send the woman interesting pictures from your travels, sports experiences and other activities. Such a thirst for adventure is particularly attractive to women - and they will wish to be part of your exciting life!
8. From writing in chat to a date quickly!
Okay, above I told you how you can (theoretically) write about certain topics until your fingers hurt.
But now I'll explain something to you: You shouldn't text the woman back and forth forever, but rather arrange a date as soon as possible after you've warmed up in WhatsApp chat!
Give the girl a good reason to look forward to the date with you. Your communication has just reached a high point and she asked you a question about a personal topic while chatting?
Then you can answer now:
"I'll tell you that when we meet in person ... it's a long story. Do you have time this Saturday? "
If you do it skillfully, she will absolutely want to know what secret you want to reveal to her. It's easy to get her on a date this way!
These tips don't stop there ...
Do you want to appear so attractive when writing in WhatsApp that the woman always answers you and enthusiastically agrees to the date suggestion?
In my short video You will find out the best strategies & example sentences for writing: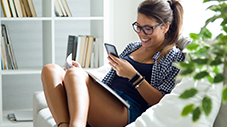 7 tricks to do with it she misses you and bombarded you with messages!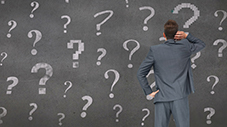 She no longer answers? So you bring that Chat is new!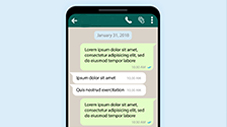 1 technique how she says "YES" to the date [+ message template]!