How quickly could NATO tanks reach Moscow?
NATO: Russia should stop the march
Between April 9 and 11, the OSCE observer mission in the Donetsk region of Ukraine recorded 367 violations of the ceasefire between Ukraine and Russia-backed rebels. There were 224 violations in the neighboring Luhansk region. In the previous week, the Organization for Security and Co-operation in Europe (OSCE) had only registered a total of 26 incidents.
So the violence is increasing in eastern Ukraine. The Ukrainian government blames Moscow for this. For weeks now, Russia has been stationing more and more troops in the rebel areas, on the borders with the rest of Ukraine, on the annexed Crimean peninsula and in the Black Sea. Estimates by the western military alliance NATO come to tens of thousands of men. The Kremlin does not deny the troop movements but insists that they are not preparations for invasion or war.
In view of the troop deployment, US President Joe Biden picked up the phone and proposed a summit meeting in a third country to Kremlin chief Vladimir Putin. The Kremlin confirmed Biden's telephone proposal, but left it open whether Putin would accept the invitation.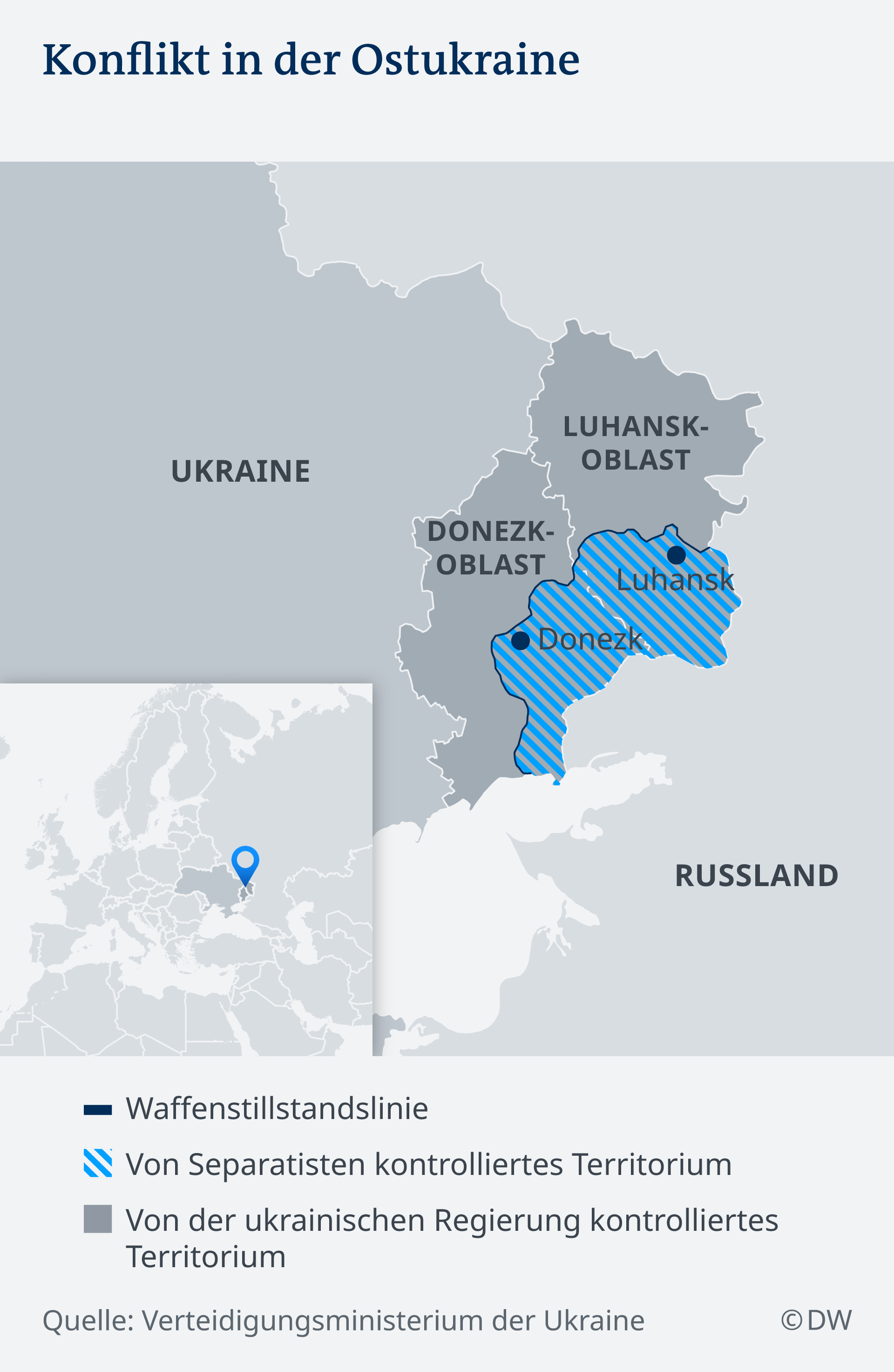 "This is the largest troop deployment since the occupation of Crimea in March 2014," said NATO Secretary General Jens Stoltenberg in Brussels. "We are seriously concerned. Russia's deployment is unjustified and cannot be explained. Russia must stop the provocations and de-escalate immediately," demanded Stoltenberg before a meeting of the "NATO-Ukraine Commission" at NATO headquarters. Ukraine had requested the crisis meeting to discuss the growing Russian threat.
"We don't want a war"
Ukrainian Foreign Minister Dmitri Kuleba, who attended the meeting in Brussels, thanked Stoltenberg for the quick action. "Unlike 2014, when the Russians acted quickly and the West reacted slowly, there will be no surprise this time," said Kuleba. He sent another threat to Moscow afterwards: "The price for Russia would be high. We don't want a war. We feel obliged to take diplomatic measures (...) We have the means to get Russia to withdraw from our territory. We will restore our sovereignty. "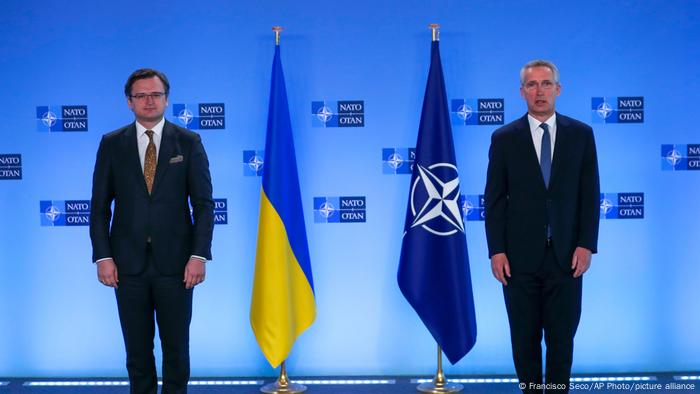 Foreign Minister Kuleba (left), Secretary General Stoltenberg: Strong words before the meeting of the NATO-Ukraine Commission
Russia illegally occupied and annexed the Crimean peninsula in 2014. In eastern Ukraine, rebels backed by Russia and presumably Russian soldiers began a war that has continued to this day and is intensified again and again when Russian President Vladimir Putin agrees. At the same time, Ukraine and Russia, mediated by France and Germany, have set up a "peace process" named after the Belarusian capital Minsk because the first meeting took place there. However, the Minsk process is only progressing slowly. The ceasefires that have been agreed over and over again are broken again and again.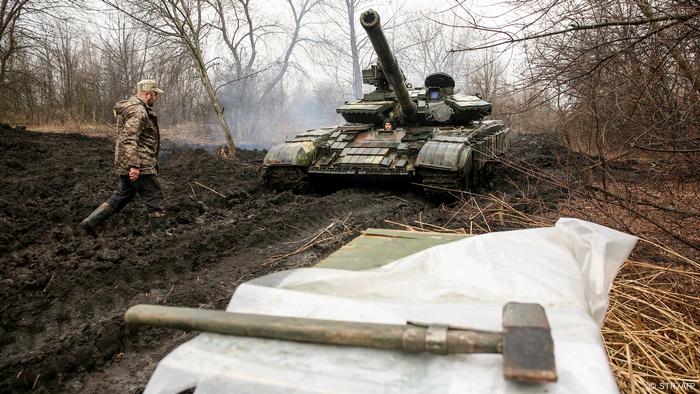 Tensions on the border between Ukraine and Russia: tanks of the Ukrainian army near Lysychansk
For its part, the Russian government reacted with harsh criticism to the critical words from Brussels. "The US and other NATO countries are deliberately turning Ukraine into a powder keg," said Russian Deputy Foreign Minister Sergei Ryabkov, according to Russian news agencies. If the situation came to a head, the security of their own citizens would of course be protected, said Ryabkov. "Then Kiev and its allies in the West would be solely responsible for the consequences of such a hypothetical escalation."
US warships in the Black Sea
The citizens Ryabkov speaks of are probably those rebels and residents who received a passport from Russia in eastern Ukraine after the conflict began. The US had moved additional warships to the Black Sea near the Crimea. Sergei Ryabkov called this a provocation that must be reversed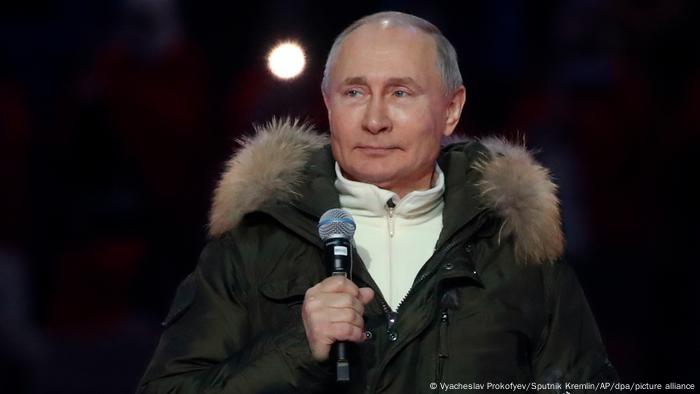 Russian President Putin in the annexed Crimea in March: Troop movements to "protect their own citizens"
The North Atlantic Alliance will not send combat troops to Ukraine for support. NATO Secretary General Stoltenberg made it clear, however, that "practical cooperation" with the Ukrainian army was to be strengthened. NATO trains Ukrainian soldiers and advises the military command in Kiev. Joint maneuvers are also organized. Individual NATO members deliver equipment and weapons to Ukraine. For example, Turkey has provided drones, which Russian Foreign Minister Sergei Lavrov criticized on Monday.
During his visit to Brussels, the Ukrainian Foreign Minister Kuleba called on NATO to mobilize further means to "deter" Russia. Kuleba called a new round of economic sanctions and "direct aid to develop our capabilities" without going into detail. NATO Secretary General Stoltenberg also remained vague and spoke of more "help for Ukraine to defend itself."
Special meeting of foreign and defense ministers
In order to show moral support for Ukraine, NATO announced a joint virtual meeting of foreign and defense ministers for Wednesday. The American department heads Antony Blinken and Lloyd Austin will symbolically attend this meeting in person at the NATO headquarters. Both ministers are currently touring Europe as a token of the new US administration's renewed transatlantic ambitions, which NATO welcomes greatly.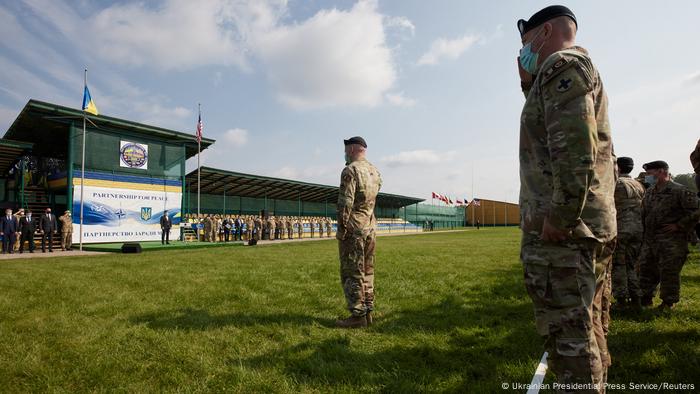 Joint maneuvers: NATO and Ukrainian troops 2020 near Lviv
NATO Secretary General Stoltenberg once again made it clear in his press conference in Brussels that the 30 members of the alliance would decide alone whether and when Ukraine would join the alliance. "Russia cannot decide what its neighbors have to do," said Stoltenberg with very energetic gestures in response to a question from a reporter. Applying for NATO membership is the right of every sovereign nation. That is an important principle, added Stoltenberg. At the 2008 NATO summit in Bucharest, at that time in the presence of Russian President Vladimir Putin, the alliance had in principle promised Ukraine and Georgia membership in NATO, at some point if the conditions were met. "'For me, membership in NATO is only a matter of time. There are no other criteria," said Kuleba.
Russia has always refused a possible membership of the former Soviet Republic of Ukraine. With the conflict in Ukraine, membership is almost impossible at the moment, as NATO only accepts states that do not have border conflicts or armed conflicts with neighboring states. Incidentally, this also excludes Georgia, where Russia occupies parts of the national territory. Ukraine currently has a special partnership status with NATO, which apart from Ukraine has only been granted to Georgia, Sweden, Finland, Jordan and Australia.