What are the airline's premium economy seats
ECONOMY VS. PREMIUM ECO. Which airlines get the most for the money?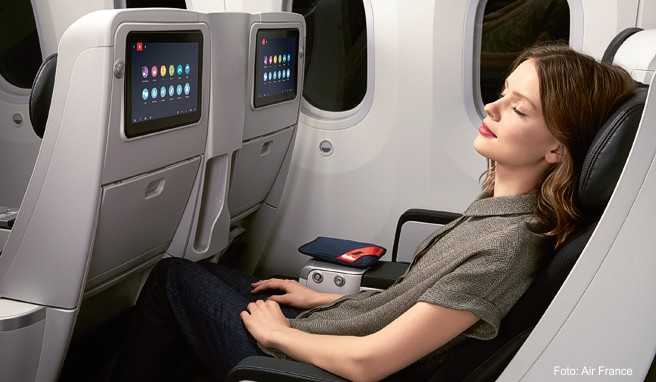 An Air France Premium Economy passenger enjoys greater seating comfort
For those who find Economy Class too uncomfortable and Business Class too expensive, many airlines offer an intermediate class for an additional charge: Premium Economy. But watch out: Sometimes you can get a business ticket elsewhere for the same price.

Long-haul flights in economy class require humility, especially from tall passengers: spending twelve hours squeezed into tightly packed rows of seats is no fun. The airlines know that too. That is why many intercontinental carriers offer an additional class between economy and business: the premium economy. It offers wider seats with more legroom and amenities such as extra baggage, business class check-in, lounge access and better on-board catering. Sometimes there is even a glass of champagne with it. There are no standards; each airline decides for itself what to install and offer. So when choosing an airline, the question arises: Am I going to land in a better economy or in a slimmed-down business?
The good news: The intermediate class has been hugely upgraded in recent years. The distance between the seats has increased, the seats are better and, above all, wider, overall the delimitation to the "wood class" has become noticeably larger.
New seats are always coming onto the market
The development can be described well using the example of British Airways: The first generation seats from 1999 can still be found at BA in the B 747 and B777-200. The plush recliners have small 6-inch monitors, but neither a USB port nor a socket. From 2010, the second generation was mainly installed in the A 380 and the Dreamliner, "slimmer" seats with 10.6-inch monitors. The third generation has been installed in the B 777 since winter and will be used in the new A 350 from summer 2019, with medium-sized 12-inch monitors and USB ports, the latter has long been standard with other airlines in the economy. A comparison before booking is essential.
If you look at the tables, you will find many airlines in vain. The Arab and African airlines are completely absent. Ethiopian Airlines, South African, Etihad, Qatar Airways, Oman Air and Gulf Air (so far) have waived the premium economy. Air India, KLMundTAP also say: Hopp (Economy) or Top (Business). Thai Airways only uses its Premium Economy from Scandinavia and Moscow. Turkish Airlines and Iceland Air have since abolished the class. Emirates, on the other hand, has announced a Premium Economy for 2020, as has Finnair. Swiss will be launching a Premium Economy from spring 2021. United Airlines is starting this year with a "Premium Plus" in its B 777 and B 787.
Some airlines even have a fifth, more or less a "premium economy light": They offer economy class seats with up to 15 centimeters more seat spacing. These include Air France ("Seat Plus"), American Airlines ("Main Cabin Extra"), Brussels Airlines ("Comfort Zone"), Delta Air Lines ("Comfort +"), Etihad ("Economy Space"), Finnair ("Economy Comfort "), Malaysia Airlines (" Economy with extra legroom ") and United (" Economy Plus "). US airlines usually use these as a goodie for frequent flyers or sell upgrades.
Those who want to stretch their legs on board usually enjoy 97 centimeters of seat spacing in the Premium Economy. Air France and Cathay Pacific (in the A 350) offer 102 centimeters, Air New Zealand adds another two to four centimeters. The front runners with 107 centimeters are Japan Airlines and Vietnam Airlines (in the B 787).
The widest seats in the premium economy have Qantas with 52 cm (in the B 787) and Air Canada (B 777), Air China (A 350), Air New Zealand (B 777), Cathay Pacific (A 350) and China Airlines with 51 centimeters. There is more than seven centimeters of space saved at Air Canada, Air New Zealand, ANA, LOT, Qantas and Virgin. However, the difference between Condor, Delta Air Lines, Singapore Airlines, Vietnam Airlines and Japan Airlines is barely noticeable. Part of the reason for this, however, is that the seats in Economy Class are already above average.
The airlines try to score points with amenities
Premium economy seats are usually quite a bit higher quality. Almost across the bench, adjustable head, calf and footrests as well as a larger angle of inclination of the backrests ensure more seating comfort. Americans have a preference for leather seats, as do Air New Zealand and Singapore Airlines. The monitors sometimes reach their limits. ANA has the largest screen with a screen diagonal of 15.6 inches (almost 40 cm!) In the A 380. Air France, Delta Air Lines, Qantas and Singapore Airlines have chosen the next smaller model with 13.3 inches (34 cm), albeit this monitor is already standard at Emirates in the normal economy. Nice extra: With Air France, British Airways, Austrian, Iberia, Delta, American, Singapore Airlines, Cathay, Eva Air, Air New Zealand and Qantas, every third airline in the premium economy distributes noise-reducing headphones.
With almost all airlines, the premium economy class is a separate area with no through traffic, even if it does not have its own toilets (exception: in Lufthansa's B 747, the Premium Eco is in the middle of economy!). The staff has far fewer guests to look after. The seating is usually more relaxed, there are often two at the window, with Singapore Airlines there are even single seats. Nevertheless, you are not immune to four middle blocks.
In addition, it is more stylish than the Eco: the food (at least the main course) is served almost without exception on porcelain. The quality ranges from normal economy food (Austrian, Lufthansa, Japan Airlines) to "slightly better than eco" and "business food in chef quality to be ordered in advance". Austrian Airlines buys the food from Viennese caterer Do & Co. Singapore Airlines advertises premium food that can be pre-ordered ("Book the cook"), Air France with business-like catering. Both, like Japan Airlines, serve champagne. Virgin Atlantic invites you to afternoon tea.
Further features are supposed to spread a touch of business: seats with adjustable reading lamps and large bottle holders, some airlines have slippers and luxurious amenity kits distributed, Japan Airlines is trying to score with foot massage sticks and postcards. Of course, nobody books a more expensive ticket because the blanket and pillow are fluffier - but all these little things help make the flight a little more comfortable again.
The most important selection criterion, however, remains the price
What they all offer are the crucial centimeters of legroom. As long as the surcharge for the economy is between 150 and 350 euros per route or between 20 and 30, the premium economy is a welcome option for tall passengers to escape the agonizing confinement of the "wood class". Our sample of pricing is telling. The percentage surcharge given in the table for the respective route example shows which surcharges can be expected with the individual airlines compared to the economy. Less than 20 percent is only in exceptional cases. For example, when the economy is already well booked, but there are still many seats available in the premium economy and the airline then lowers the prices.
LOTPolish Airlines offered the Premium Economy on the flight to New York in our test booking for € 720, the Economy for € 602, an extra charge of just 20 percent. At Vietnam Airlines, the leap into the higher class beckons for 18 percent. Both airlines are among the winners of the comparison not only because of the low surcharge. Air France goes a little further: the on-board catering is based on Business Class, there is a glass of bubbly, a feather pillow for a nap afterwards and a self-service bar with snacks is available for those who are hungry in between. The space is also among the best that this class has to offer. Moderate additional costs of 28 percent compared to a conventional economy ticket seem quite appropriate. The range offered by Russian Aeroflot is also appealing: comfortable seats, good space, priority check-in and the catering comes from the business kitchen. For last-minute travelers, the Russian airline offers upgrades at check-in for an extra charge of € 130–150 each way.
The premium class usually only consists of two to five rows of seats, because the upgraded economy is still a marginal product. This is not surprising: The surcharge is clearly too high for many airlines, because on the racetracks you can often get a flight in business class for the same money with a no less attractive company. For example with Qantas: The kangaroo flier sells the flight from Frankfurt to Sydney in Premium Economy when we made a test booking on the airline website for € 2,758. For comparison, we asked our metasearch World-of-Flight.de about the cheapest business offers on the same route. Result: On identical dates, we were shown two business class offers from two high-service Asian airlines for the same price.
Goodies: priority check-in and preferred security control
Premium economy or business check-in, then in the business / first line at the security check and off to the lounge? Do you prefer to board and be the first to receive your luggage? Here, too, the wheat is separated from the chaff. Priority check-in is part of the service of almost every airline, the same applies, with a few exceptions, to security checks. Only at Austrian and Lufthansa is Premium Eco in the end just Economy: There is no special treatment at the airport. ANA, JapanAirlines and SAS offer free lounge access, with others you have to buy access to the business lounge for a hefty € 25–35.
When it comes to luggage, the business standard often also applies to premium economy passengers: with many airlines, passengers are allowed to check in two suitcases weighing 23 kilograms instead of one and take two pieces of hand luggage with them. Cathay Pacific, China Airlines, Eva Air and Singapore Airlines allow »only« 35 kilograms of checked baggage, which is just five kilograms more than in Economy Class. With all the spending mood: who needs so much luggage? After all, a vacation trip to the tropics is not a move. It would be much more important to raise the hand baggage allowance. Some companies are very stingy: Cathay, Singapore Airlines, Eva Air and China Airlines only allow seven kilos even in the premium economy, Lufthansa and Austrian stay at eight kilos. Only Air China undercuts that with five kilos. If you factor out the weight of the trolley, you only have two to three kilos left.
TIP
The prices listed in the tables were determined on the airlines' websites. When booking, a flight portal should be used for comparison in any case. T. better tariffs can be found. We also recommend making a price comparison for business class, because the test has shown that a competitor's business is sometimes cheaper or barely more expensive.
(TRAVEL & PRICES 2-2019)