What would an American dictatorship look like?
Never again a dictatorship
After the catastrophe of the "Third Reich", the National Socialist dictatorship under Adolf Hitler, democracy was rebuilt in Germany after 1945. The constitution was initially provisional.
Federal Chancellor Konrad Adenauer signs the Basic Law in 1949
In West Germany, the Basic Law, which is still valid today, was passed in 1949. This was supposed to serve as a transitional constitution until Germany was reunified. The validity of the Basic Law initially extended to the American, British and French occupation zones in the west. The German Democratic Republic (GDR) was also founded in the Soviet occupation zone in 1949. Since October 3, 1990, there has been only one reunified Federal Republic of Germany - and the interim solution became the first all-German constitution. The free-democratic basic order of Germany is based on this.
Lessons from history
The Basic Law protects, among other things, the freedom of the individual, guarantees his dignity and treats all citizens equally before the law - regardless of their race, origin, language or religion. In addition, through the separation of powers, state power was subjected to strict control - a dictator would never again be able to rule in Germany.
A federal state with three levels was established: the federal government and the states share political power. The states transfer key competencies to the federal government, but participate in its legislation. In other areas, the federal states are independent in their legislation. The municipalities are the third, lowest level. Barricades were created against radical, undemocratic currents: "defensive democracy" allows unconstitutional parties to be banned. In 1952 the neo-Nazi "Socialist Reich Party" (SRP) and in 1956 the "Communist Party of Germany" (KPD) were banned. Furthermore, not every party gets into parliament: only when it overcomes the five percent hurdle in an election is it represented in parliament. This rule is intended to give the German Bundestag stability.
State-building export hit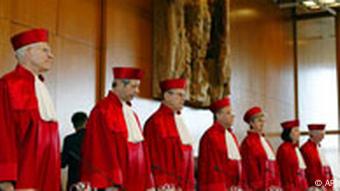 Federal Constitutional Court 2005
Power sharing, fundamental rights and democracy have also been given a guardian - the Federal Constitutional Court. Upon request, it checks laws for their constitutionality and helps every citizen to enforce his rights and freedoms against the state. In international comparison, the German Federal Constitutional Court was for a long time unique and copied worldwide. One example is Spain, where such a court is also anchored in the constitution.
More parties are forcing political compromises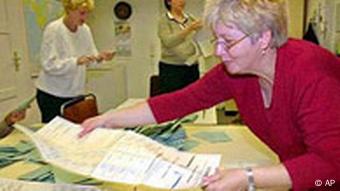 Counting of votes in Dresden in 2002
In Germany, the political parties are responsible for resolving social conflicts and mobilizing citizens for federal and state elections. Two popular parties have emerged: the conservative CDU / CSU and the social democratic SPD. But other political currents are also optionally represented in the Bundestag and in the state parliaments: Liberal and green politicians fight for voters, but left-wing ideas are also represented. The political system takes on social interests through associations, unions and interest groups.