Why has Arnab Goswami completely changed
Bangladeshi blogger seeks asylum
The apartment is still largely empty and bare. Hardly any furniture, no pictures on the walls. Just a couple of suitcases on the wall, a large mattress on the floor, a stroller, a few toys. And a laptop. For a few months now, this has been the new home of Arnab Goswami, his wife Juthi and their 16 month old son Adrij. One room, kitchen, bathroom. In Aachen, far from Dhaka, the capital of Bangladesh. They could not and would not stay there any longer. The fear that something might happen to them was too great. Just like other critical voices in the South Asian country. Bloggers have been threatened, attacked or even killed several times in the past few years. Among them are acquaintances of Arnab.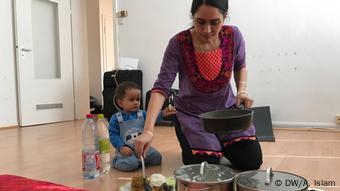 Arnab arrived in Germany in October 2016 - he didn't see his wife and son again until the end of the year
He's also a blogger. The 29-year-old, who actually works in the financial sector, has been writing since 2008. In the beginning there are short stories and poems that he publishes on his site somewhereinblog.net. At first he writes under two pseudonyms, Dhrubo Tara and Aranya Shouvik, now under his real name. The topics have also changed. His texts have long dealt with political and social issues. "It's about child marriages, minority rights or religious fundamentalism." Arnab's texts are popular with users, and some are published on the country's largest blogger sites. This is noticeable, also with the authorities. "I have never been called in for talks, but I have government employees among my followers on both Facebook and Twitter. And on several occasions I have been warned that I should reconsider what I write."
Threats via Facebook
Since 2013 he has received increasing threats, especially from radical Islamists. These are gaining more and more influence in Bangladesh. Atheist bloggers like Arnab are particularly targeted. At first he doesn't take the messages too seriously. He doesn't believe that anything could happen to him or his wife Juthi.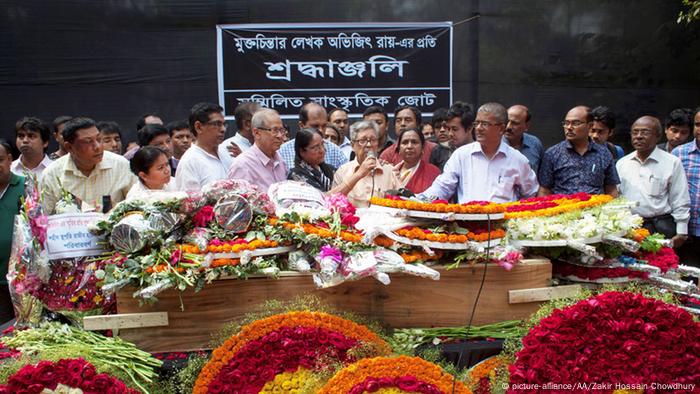 Farewell to Avijit Roy at the beginning of March 2015 in Dhaka - one year before his death, the blogger was nominated for the Deutsche Welle online award "The Bobs - Best of Online Activism"
But then in February 2015 the well-known blogger Avijit Roy was murdered. He is killed in the street, his wife survives with several knife wounds.
Shortly afterwards, Arnab notices a steep increase in traffic to his site. He fears the threats are related to his growing popularity. As a precaution, he's taking his blog offline. Then he gets a message on Facebook: "You might think that we would forget you just because you took your website offline. But you will stay with us. Your time will come."
Threats via Facebook
Arnab gets scared. He turns to the police. "But they just told me they couldn't help me, that I should leave the country." Nevertheless, he stays in Dhaka for now. But the situation is coming to a head. By the summer of 2015, three more secular bloggers will be murdered, including Niloy Neel, whom Arnab knew personally.
Juthi is very afraid for her husband. The two have just become parents, their son Adrij is three months old. Finally, in April 2016, Arnab's risk becomes too great. He forges a plan, wants to move to Nepal. It should look like he's not coming back. In fact, however, he would like to secretly return to Bangladesh and his family two weeks later.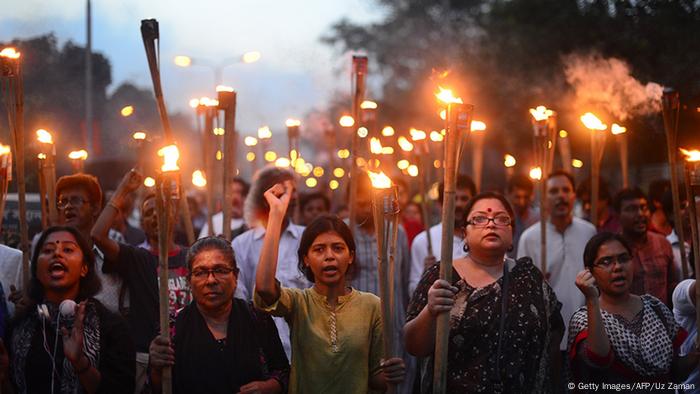 Bangladeshi secular activists take to the streets following the murder of Niloy Neel in Dhaka
Arnab believes that Juthi is safe in Dhaka without him. But he's wrong. The threats don't stop, on the contrary. "When I was still in Bangladesh, they were only directed against me, not against them. But now I got emails and Facebook messages that said that something could happen to my family because I had left Bangladesh. That was new." The family is most important to him, says Arnab. He comes back.
Target for Islamists
Seeking help, he turned to the German embassy in Dhaka, which finally issued him a visa at the end of September 2016. He arrives in Germany on October 9th. Three months later, his wife and baby are also allowed to come. The family is reunited. Arnab is lucky: The writers' association PEN America, the NGO Center for Inquiry, which specializes in education, and Amnesty International support him financially.
"Leaving my home country was not an easy decision. Everyone depends on their country," he says today.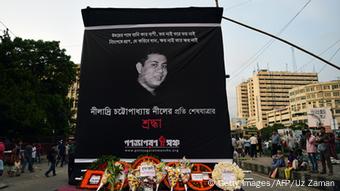 Arnab Goswami knew the blogger Niloy Neel, who was murdered in August 2015, personally
"But the influence of militants and extremists in Bangladesh has grown so much that ordinary citizens are no longer safe to express their opinions freely. Our texts have made us targets." There was a point when he was simply forced to turn his back on Bangladesh.
Forgotten - at least for a moment
Arnab Goswami is sitting on the mattress in the living room. He shows his blog and his Facebook page. Both were hacked a few days earlier. He doesn't know who is behind it, but suspects that it could have been professional hackers. When his son crawls into the room, Arnab beams. He cuddles him, makes him laugh. And when the little boy takes a few clumsy steps on his own legs, his father applauds enthusiastically. In moments like this, all worries seem to have been forgotten. But when Juthi takes the little one into the kitchen, he quickly becomes serious again.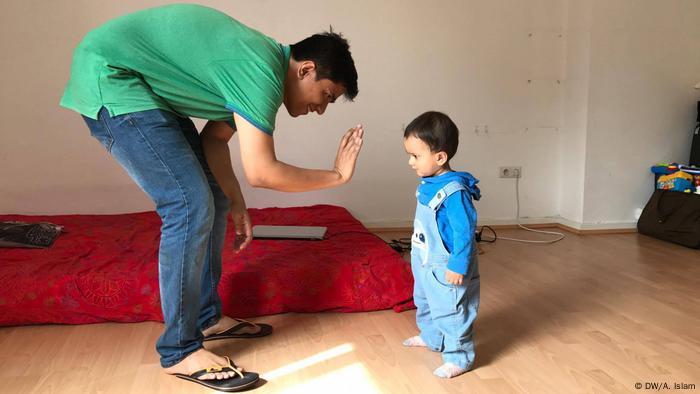 Adrij is learning to walk - and his father can forget everything else for the moment
It makes him sad that he is in danger because of his lyrics, he says quietly. "My family has had a tough time. Maybe I'm safe here in Germany, but my future is still uncertain. I suffer from this situation, it hurts me." Arnab and Juthi also miss their parents very much, who still live in Bangladesh. Nevertheless, he does not regret anything. Because of the fear and the insecure situation in Bangladesh to stop writing, that was never an option for him. Even if it was clear to him that he was dealing with sensitive issues and thereby exposing himself to risk.
Gloomy scenario for Bangladesh
"Of course it is very worrying that liberal bloggers are being killed for their publications. But is that why we should stop expressing our opinions?" He answers the question with a resounding no. "There has to be someone who writes about such topics. Otherwise our country faces a dark future," he warns. There is defiance in his voice. He and other bloggers should write even more against religious fundamentalism, he says. "We want our country to move forward, not backward. So we have to move on." Otherwise, in the worst case scenario, Sharia law could even be introduced in Bangladesh, he fears.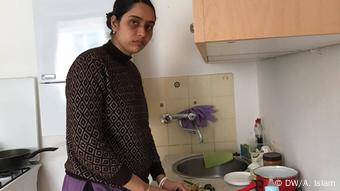 During her pregnancy, Juthi was very afraid for her husband, who received more and more threats
Arnab's wife Juthi demonstratively stands behind her husband. "I support what he writes. Sometimes he discusses a topic with me before reporting on it on his blog. Nothing in life is perfect. No religion, and no society either. There are always problems. It is important to write about them . " Since she came to Germany, 27-year-old Juthi has mainly taken care of her son and the household. She has a degree in business administration and a master's degree. Should she stay in Germany longer, then she would like to look for a job as soon as her son is old enough for kindergarten. But it is not yet clear how the family will continue next year.
Aachen - and then?
Arnab Goswami has an appointment with his lawyer. Volker Simon has specialized in migration law and has been supporting the family since February. All three now have a residence permit until the end of 2017, the one for Juthi and Adrij was only issued a few weeks ago. Now Simon wants to apply for asylum. He is optimistic that the chances are good - even if applications from the South Asian country are not given priority to the Federal Office for Migration and Refugees (BAMF) because there is no war in Bangladesh.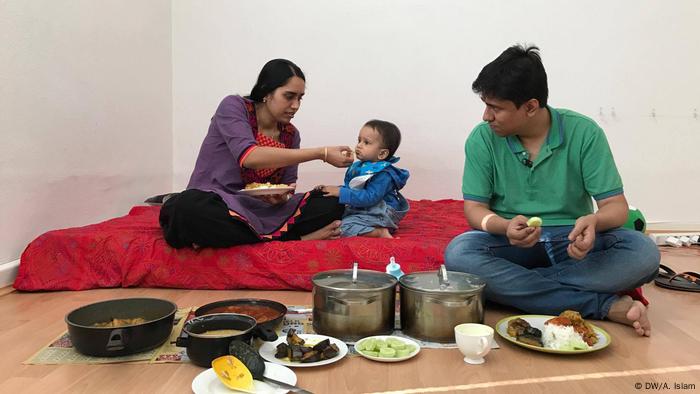 Can the family stay in Germany?
A total of 2,657 asylum applications were submitted by refugees from Bangladesh in Germany in 2016, according to the BAMF when asked by DW. The overall protection rate for refugees from Bangladesh - i.e. the proportion of asylum recognition, deportation bans and granting of refugee protection - was just 10.9 percent within this period.
Printing with the help of the message
In the case of Arnab Goswami, however, there would be special circumstances. "I see good chances of success in the asylum procedure," says Volker Simon. "The German embassy in Dhaka has pointed out that as a critic of religion, free thinker and blogger he is in considerable danger in his home country and that some of his colleagues have already been murdered." The case of another blogger also lends additional emphasis. A case with a tragic outcome. "This colleague had applied for a visa at the Swedish embassy and was shot dead on the street during the visa process." Not least because of this, it was important to the embassy at the time to get Arnab out of the country quickly.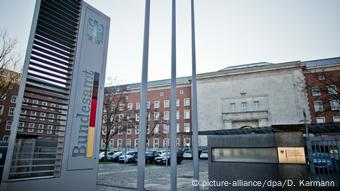 The Federal Office for Migration and Refugees has the final say - Arnab hopes that his application will be successful
The coming months are crucial for the young family. In the summer, lawyer Simon wants to apply for asylum, then it is time to wait. "It is difficult to estimate the processing time at the BAMF. It will certainly take a few months before he gets his hearing and hopefully the decision will be quick." In the best case scenario, Arnab will then receive a residence permit for three years and a refugee passport. "Then he would first have a secure perspective in Germany." It would also look good for Juthi and son Adrij. "You can get family asylum or protection as a member of a recognized refugee. And that regardless of whether you can prove your own reasons for persecution or not."
Adrij is crawling on the bed and slapping his hands on the laptop. Maybe he is imitating his father working on his blog. He has no idea that working on the computer was dangerous for his family in Bangladesh. For him, the laptop is just one thing at the moment: a toy.
Arafatul Islam was a major contributor to this article.