Pakistan will soon be destroyed
Pakistan has Hindu temples rebuilt after the attack
History repeats itself: the Hindu temple in the province of Khyber-Pakhtunkhwa was destroyed as early as 1997. Two days ago, he was again the target of destruction by Islamists.
More than 1,500 radical Muslims stormed the temple in Karak district on Wednesday, destroyed the building with hammers and other tools, and then set it on fire. The mob was led by Islamic scholars and supporters of the Islamist party Jamiat Ulema-e-Islam (JUI-F), one of the largest Muslim parties in Pakistan.
Promised more protection for places of worship
Khyber Pakhtunkhwa in northwest Pakistan lies on the border with Afghanistan and has long been considered a stronghold of the radical Islamic Taliban. The vast majority of the province's 36 million inhabitants are Muslims.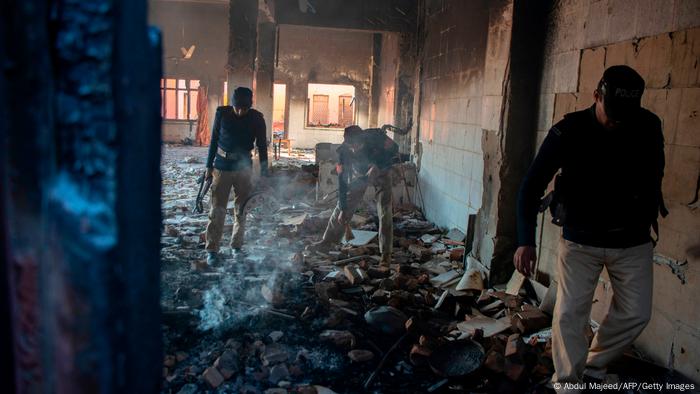 The Hindu place of worship was completely destroyed
The attack on the Hindu temple came after the authorities gave the green light to renovate the building. According to media reports, more than 40 alleged perpetrators have been arrested in connection with the attack. Among them was an Islamic clergyman, it was said.
Religion Minister Noorul Haq Qadri condemned the arson as a "plot against social harmony". Islam prohibits attacks on places of worship belonging to religious minorities, the minister said. The head of the provincial government, Mahmood Khan, announced in the Pakistani media that the state of Pakistan would fund the reconstruction of the sanctuary. In addition, Khan has guaranteed the protection of all places of worship of religious minorities, it said.
Violence against Religious Minorities in Pakistan
After the first destruction in 1997, the temple was rebuilt by the provincial government on the orders of the Supreme Court of Pakistan. In addition, the court had ruled that free access for Hindus to the sanctuary was to be guaranteed. Although there are no Hindus living in the vicinity of the temple, the site is considered sacred by the Hindu minority and is a popular destination for pilgrimages.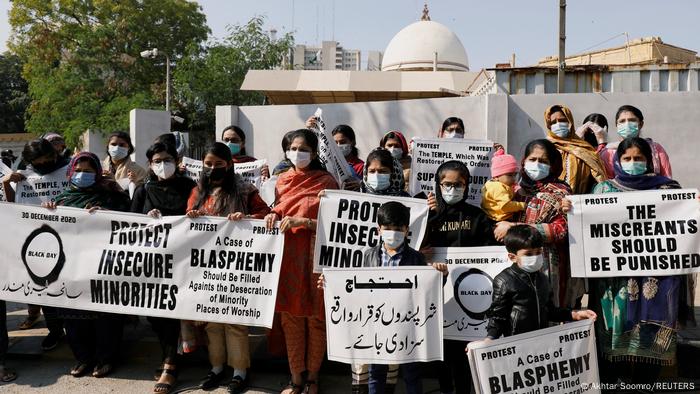 Hindus protest against the destruction of the temple in front of the Pakistani Supreme Court in Karachi
In Pakistan, which is predominantly Islamic, the religious minorities of the Hindus as well as the Christians are repeatedly exposed to violence, discrimination and persecution by Islamic hardliners. In its 2020 annual report, the US Commission on International Religious Freedom recommended that Pakistan be designated as a "country of particular importance" because of the ongoing systematic violations of religious freedom.
cw / sti (dpa, kna)