Which is the best pizza without vegetables
Fast and easy
Vegan pizza
Pizza stands and falls with the dough, for me the be-all and end-all. When developing new recipes, I "tweaked" the proportions of my yeast dough for pizzas and found the optimal dough, nice and thin, super crispy and the topping doesn't dribble right through . And experimented with the toppings. My colleagues, who are absolute pizza freaks, had to try all the new creations and were thrilled.
However, one or the other question came up: "Is it also vegan?" Or: "Is it made with normal flour, oh, then not gluten-free, that's a shame, then I can't eat it!" So I went back to work and puzzled around in the test kitchen. Vegetarian okay, but vegan? The dough is not a problem, we were able to make a simple yeast base dough. And there are no creative limits to the vegetable topping.
Only the cheese, uff, yes, the cheese, no mozzarella, the epitome of melting for pizzas. It was now a matter of compensating for that.
Actually, I wanted to leave out the cheese toppings entirely, but then I was interested and a little bit of spiciness can't hurt a vegetable pizza. So I went shopping and got yeast flakes, soy cooking cream, and margarine to get one vegan processed cheese to manufacture. On the yeast flake package there was a recipe for Yeast melt, very convenient. I tried that out right away. The first time the fat settled down a bit, so I took a little less margarine. And instead of yeast extract to taste, some vegetable stock powder, which we always have in stock in our spice drawer.
If you have yeast extract at home, you can of course season it with it. And when the melt is being prepared, the kitchen really smells like when you dissolve some processed cheese for a sauce or soup. Then cover the pizza dough with tomatoes and vegetables and distribute the melted teaspoon-by-teaspoon on top. From in the oven and now and then through the pane of the oven to see how it behaves. It doesn't melt like cheese, but it looks appetizing.
When tasting it with the others, it was eaten in no time. "Is that parmesan? Oh no, that can't be. But what is it that tastes almost as spicy? "After baking, we sprinkled it with a mixture of ground almonds and yeast flakes. Well received! A real highlight for our vegans, but the rest of them also found them super delicious.
I also liked it very much, I found it exciting, visually very appealing and appetizing. I'll do it again, let's see what my friends say ...
Ingredients for two round pizzas (approx. 28 cm ø)
For the dough
300 grams of flour
1/2 cube of yeast
1/2 teaspoon sugar
1 teaspoon sea salt
1 tbsp olive oil
For covering
250 g cherry tomatoes
200 g of chunky tomatoes
about 6 sprigs of thyme
sea-salt
black pepper (from the mill)
2 zucchini (approx. 400 g)
1-2 tbsp olive oil
4 spring onions
if you like, you can also sprinkle your pizza with vegan cheese
For the yeast melt
3 lightly heaped teaspoons of flour
1 heaped tablespoon of vegan margarine
150 ml soy cooking cream (e.g. soy cuisine from Alpro)
4 lightly heaped tablespoons of oat flakes
about 1/2 teaspoon vegetable stock powder or yeast extract
about 1/2 level teaspoon sea salt
1 teaspoon medium hot mustard
also
2 tbsp tomato and pepper pulp (tube, e.g. from Byodo)
1 heaped tablespoon of peeled ground almonds
1 heaped tablespoon of oatmeal
1 pinch of sea salt
50 g baby lettuce (roughly plucked)
preparation
Sift the flour into a mixing bowl and make a well in the middle. Crumble in the yeast, add sugar and 5 tablespoons of warm water, beat lightly with a fork and work in a little flour. Cover with cling film and let rise for about 15 minutes.
Add 130 ml of warm water, salt and oil, knead in. Then knead the dough with floured hands for about 2 minutes.
Shape the dough into a ball, return to the bowl. Cut crosswise at the top, cover with cling film and let rise in a warm place for approx. 1 hour.
For the topping, wash the tomatoes, cut in half and mix with the chunky tomatoes. Peel off half of the thyme leaves, add. Season with salt and pepper. Wash the zucchini and cut into thin slices. Fry in hot oil for about 2 minutes, turning several times, season with salt and pepper. Allow to cool slightly. Wash the spring onions, cut into rings.
For the yeast melt, sweat the flour in the margarine in a saucepan. Deglaze with soy cooking cream, stirring quickly with a whisk until smooth. Stir in vegetable stock powder or yeast extract, salt and mustard. To taste.
Halve the dough, roll out each round (approx. 28 cm Ø) on a floured surface, place on a greased tray dusted with flour. Brush with a tablespoon of tomato and paprika pulp, spread half of the tomato mixture, zucchini and spring onions on top, pour the yeast melt on it, teaspoon at a time. Shred the rest of the thyme leaves on top. Bake one after the other in a hot oven (230 degrees, lowest rack) for 12-15 minutes.
Mix the almonds, yeast flakes and salt. Serve the pizzas sprinkled with the salad and the mixture.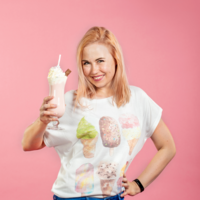 I am always on the lookout for the latest food trends and sometimes create unusual dishes. If you're curious, here are my recipes!
To Heidi's recipes