When did television come to the UK?
Great Britain, the first country to introduce a television service for the general public:
Updated: 02/15/14
This may apply to J.L.Baird's mechanical television as well as to electronic television with the 405 line standard.
Here is a link to the timeline of Baird BEFORE electronic television in 1929
In February 1931, a multiplication of low-resolution systems to a medium-line "zone television" was considered.
Transmission standard:
Vertical polarized by the broadcaster Alexandra Palace on channel 1 using the double sideband method
Image carrier: 45 MHz. Sound carrier: 41.5 MHz; So 3.5 MHz image / sound carrier spacing what a sufficient reserve for a later video bandwidth increase up to 3 MHz represents.
Initially, a 2 MHz video bandwidth in 5: 4 format was sent.
Image modulation positive - So white as the signal peak value
Synchronization pulses at carrier minimum!
(Which was subjectively and technically largely identical to the German standard)
November 2, 1936 Official start of the BBC's public television service with 405 lines ("high definition")
TV Comes to London Part 1
TV Comes to London Part 2 (English)

With the famous "Television March"!
According to [10 / S104], with 1939 23,000 television licenses had been reported, which should roughly correspond to the device inventory and explains why after the war one continued to work with the 405 line standard, which was already slightly outdated at that time. Round 100,000 viewers can be extrapolated.
As early as the 1930s, the television pioneer Baird tried to make cinema broadcasts based on television signals:
The wartime:
With the beginning of the war in 1939, the fun was over again.
In the middle of a Mickey Mouse film, the transmission was suddenly interrupted for no further reason.
Why can you ask yourself? So far, the declaration was due to the war, among other things because of electricity savings, staff shortages and because the transmitters were needed for other purposes, it came about.
Only now in 2014 do I become more clearly aware of the background: The developers of the British radar system, which was designed to protect against enemy air attacks, required sensitive RF amplifiers. And what was on the market in the VHF area at the time - we're talking from 1936 to 1938, that was the TRF, i.e. straight-ahead receivers in contrast to the superimposition receivers of the first television sets. The choice was a chassis from EMI, as described in the book "Radar Days".
At that time there was only one transmitter in London that broadcast its video signal on 45 MHz.
Thus, the experiments with the new radar were placed in these frequency ranges. Later, when other frequencies such as 200 MHz were used, the TRF receiver with an upstream mixer was made into a superhet receiver. What remained was the 45 MHz intermediate frequency that prevented the TV station from being switched on again due to possible radiation and other reasons. This ZF was used in British radar systems until after the war.
Later, a chassis with the legendary EF50 tube from Pye was used after products from Cossor were not effective.
British television in the post-war period from 1946:
| | |
| --- | --- |
| | First of all, they practiced again ... |
| The reopening of the British television network from 1946 | |
Here is a report from "Radiotechnik 1/1949 - Fernsehkinoanlagen1"
TV cinema systems 2
TV cinema systems 3
In January 1957, the British television retailer sold 112,000 television sets, which represents an increase of 32% over the previous year. [A-The Radio Practitioner No. 21 May 25, 1957]

Woodmore miners went on strike to end their afternoon shift earlier. Reason: To be able to participate in the evening television program from 8 p.m. [A-The Radio Practitioner No. 27 July 6, 1957]

With 1957 start of the parallel operation with 625 lines [Bruch: Eine Menschen Leben S268]
The EBAY user alan618 from Great Britain gives a living testimony that the desire to be part of the new medium of television found a broad basis:

Where there was apparently not enough money, a TV kit Bought:
"1950 'View Master' Build Your Own Television Set Plans This was a project that my father and I started in 1951. There are 7 stage plans and a complete manual with circuit diagrams etc. Also included are complete price lists from 1951 and some bills for components purchased. There is a part built chassis (see photographs) and other items in the original box. The project was never finished as we purchased a new Bush 9 "Type 22 set which I sold on E-Bay last week." ( 12/2005)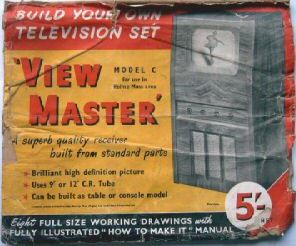 In 2005, depending on your point of view, it was 50 or 70 years or more since the introduction of television.
fact is that based on Europe in Great Britain the first public television company as we know it today was introduced both before and after the war.
Since I unfortunately had to experience from personal experience how old collectors and contemporary witnesses have recently died and with them also an essential part of the memories and the zeitgeist of the time, I wanted to preserve a small testimony for a TV kit from that time.
What motivated someone to take this path back then in order to be able to participate in the new medium of television?
For this purpose, in December 2005 I asked the Ebay_GB seller "Alan 618" for an "interview" which you can read below.
Mr. Alan built a TV kit with his father in 1950, but due to the later acquisition of the well-known Bush TV22, it was never completed ..... http://www.radiomuseum.org/r/bush_tv22tv_2.html
(I also have information about people who have also completed such kits and put them into daily operation)
(If you have language difficulties, simply use an auto-translator program from Google etc.)
Did you live 1950 in the London Area or another district? Where?
We lived in North Lincolnshire, near Scunthorpe, and the T.V. programs were transmitted from Holme Moss in Yorkshire.
(Note: This was the third station in the UK after London from around 1951)
When you or your father did heard the first time that television was transmitting generally / in your area?
I can't remember where we first heard that television was in the area.
Are you the first with TV in your neighborhood or how intense you could describe the TV penetration there?
I think we were the first in the small area where we lived to have a television.
What was the reason to buy a TV Kit instead a Factory built TV? Less money? ; The fun to built an own TV? Others?
I think we thought it would be cheaper to build and it would be fun too.
Where have you seen the television kit?
We probably saw it in a radio magazine.
Have you known other people they have successfully finished the KIT?
No.
Did you have ever doubts about the success of the self made TV KIT Project?
We did have doubts.
What were the thoughts of your other relatives, friends and your mother?
They thought we were mad.
Did you have had any experience in soldering components or electronic measuring? What was your father's job at that time?
No, we didn't have any experience about building a T.V. set although my father was always interested in radios and T.V. and he worked on the railway at the time.
Have you understand the electric circuit stages and were you informed how television really works?
Yes, we did really understand how it worked.
What was the reason to cancel the project and buy a ready Bush one?
We must have seen the Bush T.V. in a shop and considered it would better to buy it rather than continue with the building of one
Have you had an indoor aerial or a roof aerial? Self set upped or from a company installed?
We made our own aerial from an electrical conduit box and some thick copper wire and fixed it to the chimney stack ourselves.
Did you have any photos from you and your father in combination with your TV project?
No.
Why did you store these old items a so long period?
I don't know but I do keep things and the Bush T.V. was kept until recently when I sold it on E-Bay.
Have something changed in your family after the set up of the BUSH TV with the entertainment of the BBC programs?
Yes, the evening revolved around the T.V. programs, newsreels, etc. In those days we had an interval from approximately 6pm - 7pm. During the interval the screen showed either a potters wheel or a small stream running over some pebbles.
Did you have a special memory regarding the first Months of TV Watching?
Yes, the first program I ever saw on T.V. which was "Billy Bean and his Funny Machine".
References & Sources:
[XXX] see the Why is Israel not giving any land back to Palestine?