Which is better AMU or NIT
Surfing towards the Olympics: Making a wave for Afghanistan
Afridun Amu grew up in Göttingen and feels connected to his native Afghanistan. There he is a star even without coasts.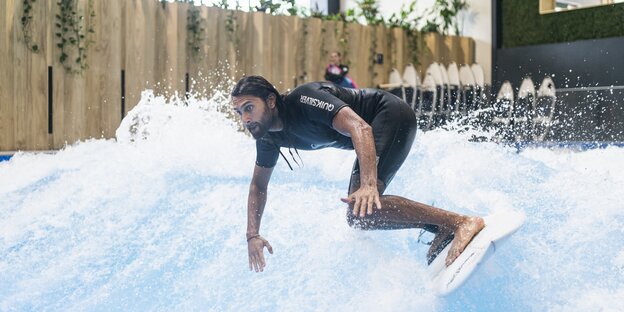 Safe on the wave: Afridun Amu indoor surfing in Berlin Photo: Sebastian Wells
One wobbler, he falls, and the wave swallows him. The surfboard splashes high above the foaming water and lands right next to Afridun Amu, who is fighting his way back to his feet at the shallow end of the pool. Yes, it's a pool he's surfing in. This surf does not come from nature. In the Berlin wave factory, an artificial wave is created over a width of nine meters. The German-Afghan Afridun Amu trains here for the Olympics. This year surfing should be Olympic for the first time, now the surf premiere at the games has been postponed due to the corona pandemic. At best for 2021. Amu's big dream is to be there - for his native country Afghanistan.
The 33-year-old is currently training in Berlin with the professional surfer Valeska Schneider. They alternately slide back and forth in the wave channel and practice little tricks. "In the beginning, a standing wave was a fight for me, a fight against water masses trying to shoot me backwards," explains Afridun Amu after his training session in the bar of the Wellenwerk. He's actually an ocean surfer. "In the sea I feel a kind of symbiosis with the wave, it drives me, brings me forward." Nevertheless, he has more and more fun on the static wave.
Afridun Amu was born in Kabul and fled to Germany with his family at the age of five. He grew up in Göttingen and studied law and cultural studies. In 2013 he co-founded the Afghan umbrella surfing association, and two years later won the first Afghan surfing championships, which were held in Portugal and in which only Afghans in exile took part. The Olympic Games are his big goal.
At the beginning of the year he was still training intensively for the World Cup and Olympic qualification. "I've been to Indonesia and Hawaii and I was physically and technically probably at my peak," he says. Then came Corona. Afridun Amu had to return to Germany. He used the compulsory break intensively for his hobbies: learning to play instruments, hiking. "I love German forests," he says, raising his fist with his thumb and little finger spread to greet a friend.
2020 is an Olympic year. But the Tokyo games have been postponed to next year due to the pandemic. However, there will still be training and sport this year. There is swimming, fighting, running, wrestling and jumping. The physical exercise editors of the taz dedicate a focus to the special challenges of Olympic sport during Corona times.
Full time surfer
Afridun Amu has a scholarship from the International Olympic Committee and some sponsorship deals to prepare for his Olympic dream full time. Because of the pandemic, it is still unclear when the first qualifying competitions will take place. "There is currently speculation," he says. In November he would like to take part in the Asian Beach Games and the Asian championships - provided you are allowed to travel to China. "I would be happy if it works out with the Olympic qualification. And I think it would be a nice proposition for all of Afghan surfing too. That would be a great act, especially for my compatriots. "
Afridun Amu has a mission. He wants to make surfing popular in Afghanistan. It sounds crazy - and it is. Afghanistan is a mountainous country without a coast. The political situation is permanently unstable, and people are repeatedly injured and killed in attacks. Surfing is probably at the bottom of the list of things the country needs.
But that is exactly what motivates Afridun Amu: "The media is almost all about terror and war, that is definitely part of the reality in Afghanistan. But that's not all that characterizes the country. The Afghanistan that I know, that I also got to know as a child, is a very beautiful Afghanistan: beautiful landscapes, interesting personalities, an incredible spirituality. And that is an Afghanistan that I would like to represent and show. "
Surfing in Afghanistan
He has already succeeded in doing this. He traveled to Afghanistan with two river surfers and a filmmaker to make a film about surfing in his home country. "Unsurfed Afghanistan" is the name of the half-hour documentary published last year that was named "Best Short Documentary" at the Berlin Independent Film Festival and the Manchester Film Festival.
The film is an impressive document of an unusual journey, a road movie in which three young men are looking for the perfect wave in a country torn by war. You travel to the Pandjir Valley and plunge into the raging river to surf a standing wave.
"The locals were amazed," says Amu. "Before we got into the water, most of them didn't even know what we were doing with our strange suits and boards. But when we were in the water at the latest, they were just as happy as we were. "Since the surfing trip to Afghanistan, Afridun Amu has been thinking about how Afghan children could learn to swim and surf.
Afridun Amu
"Surfing can bring a little joie de vivre to Afghanistan"
"In cooperation with the National Olympic Committee and some financiers, I had planned to first build swimming facilities for children in two regions in Afghanistan and train swimming instructors." He also dreams of creating a standing wave in an Afghan river. "Maybe surfing can bring a drop of joie de vivre to Afghanistan," he says. Because of the pandemic and the uncertain political situation, he is currently unable to implement his plans.
Surf therapy for teenagers
Instead, Afridun Amu is involved in the NGO "We make waves", which the big wave surfer Sebastian Steudtner started and which offers surf therapy for young people from difficult backgrounds. Amu wants to use this experience and, together with the association "Yaar", which works for refugees from Afghanistan in Berlin, teach these refugees to swim and surf. Another crazy idea. "When surfing, fear and overcoming fear play a big role," explains Amu. "If you learn to deal with this fear, it can also help in life."

This text comes from the taz on the weekend. Always from Saturday at the kiosk, in the eKiosk or with a weekend subscription. And on Facebook and Twitter.
Refugees had also often had traumatic experiences in connection with water during their escape, so that learning to swim and surf could help to cope with them. "And while surfing you can switch off, just enjoy the moment." Afridun Amu would soon like to accompany a group of refugees in Berlin, in the swimming pool and in the Wellenwerk, on their way to the surfboard. At the end there is a trip to Portugal to the sea.
Afridun Amu is a sun boy full of energy and high-flying plans. He says himself that he thinks it's okay if he is described as a cool exotic on the surfboard who wants to go to the Olympics and at the same time wants to make the world a better place. But Amu's motives are serious. He is a German citizen, was socialized in Germany - and yet repeatedly confronted with racism. "I grew up in Göttingen, a small town.
Difficulties with the new home
The stamp "foreigner" was always stamped on me. It also often happened to me that I was checked by the police at the train station, for example. "When he asked why, he said:" You look suspicious. "And Afridun Amu emphasizes:" It is urgently necessary to do that there is more talk about racism. "Anyone who experiences a lot of rejection cannot really identify with a country. "For me, Afghanistan is always the answer based on where I come from, although I also feel German."
That explains the great love he had for his homeland, which he had to leave early. And his heartfelt desire to create a more livable Afghanistan. For him, surfing is part of it. He is now famous in his home country. Participation in the Olympics would not only be the sporting culmination of his efforts, but also a gift to his compatriots. Amu himself says that it will probably be the last chance to qualify for the Games: "I recently turned 33 and I know that I probably won't have that many Olympic chances." He takes all the more seriously now the preparation. A few days after his training at the Berliner Wellenwerk, he flew to the Azores - to surf real waves in a real ocean.