What is an almost perfect anime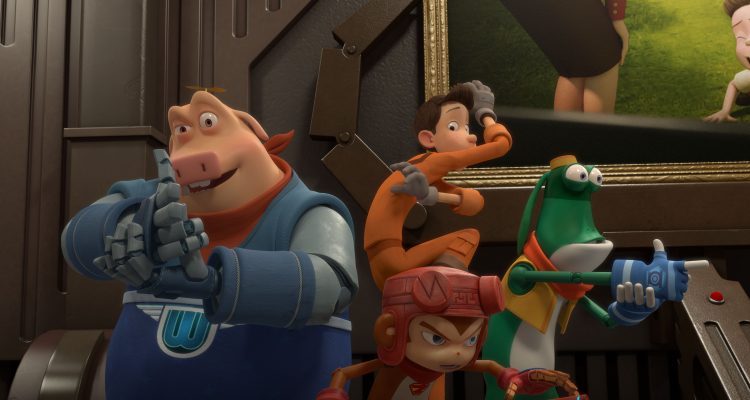 ("Bling" directed by Kyung Ho Lee, Wonjae Lee, 2016)
"Sam - An almost perfect hero" has been available on DVD since December 16th
Sam has been in love with Sue since he was a child, but has never dared to reveal his feelings for her. That hasn't changed to this day: Sue may now be a successful television reporter, Sam may work in an amusement park and tinker with robots, but the problem of his shyness has not improved. But that should finally be over, with a sinfully expensive ring he wants to ask for the hand of his childhood sweetheart and make the proposal the most beautiful moment in her life! Unfortunately, Oscar has also constructed a ring with which he wants to usurp world domination. And two rings are one ring too many.
Strange actually. While Japan could not be imagined without its huge anime industry, its South Korean neighbors have never really been able to warm up to animated films. And the few productions that make it here someday have - with the exception of Yeon Sang-ho (The King of Pigs, Seoul Station) perhaps - little has been done to give domestic industry its own face. That will also be Sam - an almost perfect hero do not change anything whose origin cannot be seen at any time. If it weren't for the telltale names of the two directors Kyung Ho Lee and Wonjae Lee, Hardly anyone would have thought that this is a factory from the Far East.
In fact - if you leave out the obvious qualitative difference in terms of optics - Sam - an almost perfect hero definitely also as a work of DreamWorks Animation or Illumination entertainment imaginable. You may find that good, because the South Korean colleague so cleverly steals the tried and tested elements such as excessive slapstick, one or the other toilet gag, curious sidekicks up to a sweet end together that you never really do anything wrong here, the targeted young target audience definitely his Can have fun. But you can also blame the film for the fact that in retrospect you can't really say whether you've seen it before or not.
But there are a few things that stay in your memory here. On the one hand, there is the somewhat questionable, extremely conservative image of women in which the beloved waits 20 years to finally receive an application without ever becoming active. The fact that Sue doesn't get any real character doesn't necessarily make the story any better either. On the other hand, Sam's hard-working helpers, which include a frog and a pig, are quite funny. The highlight, however, is Victor, an in the English version of James Woods spoken robot that is both Oscar's servant and his adversary. Because it and the city around it are nicely designed, the animations fit, something is constantly happening and the film lets itself be carried away by the end - despite commercial and traditional pressure - into well-meaning news for the little ones Sam - an almost perfect hero a very interchangeable, but overall somehow nice pleasure for in between.


(Display)
Sam - an almost perfect hero
A young mechanic fights for his love, an evil entrepreneur for world domination. The result is a lot of chaos and a nicely designed look, which, like the relatively formulaic content, does not have any great ambitions.
Kyung Ho LeeWonjae Lee
About the author