What are the strengths of Turkey
Greeks are strengthening their military
Probably in response to the recent clashes with Turkey, Greece is arming itself: "A national shield will be created," announced the Greek Prime Minister Kyriakos Mitsotakis (article picture) during a speech in the port city of Thessaloniki, which was broadcast on television.
His country will buy 18 French "Rafale" fighter jets. In addition, helicopters and four new frigates were to be purchased, four other existing frigates from German production would be modernized, Mitsotakis continued. The inventory of anti-aircraft missiles, torpedoes and other ammunition will also be increased. In addition, the national defense industry will be strengthened. In addition, 15,000 new professional soldiers are to be hired in the coming years.
Controversial Zones
Greece accuses Turkey of illegally exploring natural gas reserves in the eastern Mediterranean. The government in Athens is making claims to the area itself. The government in Ankara, however, argues that the waters belong to the Turkish continental shelf.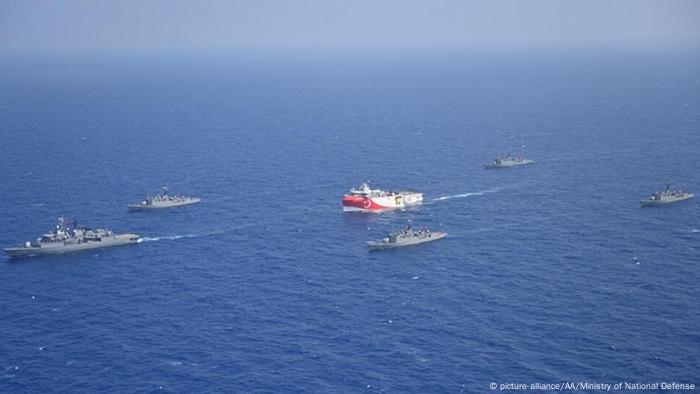 On a tour of discovery: the research ship "Oruc Reis" (center) - escorted by the Turkish Navy
Mitsotakis stressed that Greece was ready to peacefully resolve the differences over the natural gas conflict. If Turkey wanted to do the same and still no agreement could be reached, the contentious issue of the so-called Exclusive Economic Zones (EEZ) could be brought before the International Court of Justice.
Erdogan warns Macron
Turkish President Recep Tayyip Erdogan, meanwhile, issued a sharp warning to France's head of state Emmanuel Macron: "Don't mess with the Turkish people, don't mess with Turkey," he said at an event in Istanbul. "Mr. Macron, you will have a lot more problems with me," announced Erdogan. Macron had recently criticized Turkey's gas exploration as "unacceptable". In his view, Ankara is no longer a partner in the Mediterranean region. "Our red lines are simply respect for the sovereignty of every European member state, respect for international law," said Macron.
US Secretary of State Mike Pompeo also expressed concern about Turkey's actions in the eastern Mediterranean during a visit to the Republic of Cyprus. Cypriot President Nikos Anastasiades said after a meeting with Pompeo that the problems could be resolved through diplomatic means, but "not through gunboats".
wa / gri (dpa, rtr, afp)