Quinoa seeds are fully digestible
Quinoa for grain intolerance
Those who cannot tolerate cereal products are often helpless and no longer know what to eat. Quinoa is gluten-free and therefore wonderfully suitable for people with gluten allergies and those with grain intolerances such as wheat allergies. Quinoa can be eaten in the form of muesli and as an accompaniment to vegetables and salads. Nobody misses pasta and cereal flakes that are difficult to digest.
Quinoa for candida infections, blood sugar problems and obesity
Quinoa candida mushrooms also do not provide a basis for life like wheat products and all baked goods do. The glycemic index of quinoa is very low, which means that only a small part of the carbohydrates in quinoa pass into the blood in the form of sugar. This makes them an excellent food for anyone struggling with blood sugar or weight problems.
The preparation of quinoa
Quinoa can be eaten almost like grain, either raw or cooked. Basically, quinoa is rinsed well under running water before any type of preparation. Quinoa - just like cereals - can be ground and soaked for fresh "grain" mueslis. Some roast the whole grain and add it to muesli or salads.
However, the best known and most popular way to enjoy quinoa is to cook it in a manner similar to rice. To do this, quinoa is briefly boiled in twice the amount of water and then simmered at a low temperature for about 10 minutes. You then take it off the stove and cover it for another 10 minutes or more. Just be careful not to over-cook quinoa. The granules then become too soft and lose their bite. The taste also clearly suffers in this case.
If you've done everything right, which is by no means difficult, quinoa has a wonderfully nutty taste and tastes heavenly with nothing but a little high-quality organic butter or a little linseed oil and a pinch of sea or rock salt. Serve with lightly cooked broccoli and diced avocado.
Quinoa can also be prepared cold - similar to rice salad. Add organic tomatoes cut into cubes, chopped spring onions or chives and a marinade made from linseed oil, lemon juice and herb salt. Dishes with quinoa are incredibly quick to prepare, fill you up and leave a light, but extremely satisfied feeling in the whole body.
Recipes with quinoa
In our portal you will find a large selection of delicious quinoa recipes. We have put together many quinoa recipes for you here.
donation
Your donation helps us
If you enjoyed this article, we would appreciate a small contribution to our work! Donate now with Paypal.
display
Distance training to become a holistic nutritionist
Are you interested in what's in our food and want to know how nutrients and vital substances affect the body? Do you want a healthy life for yourself, your family and fellow human beings? Nutritionists are popular - but the holistic aspect that is needed for sustainable health is often forgotten when giving advice. At the Academy of Naturopathy, you will get to know the connections between lifestyle and diet as well as physical and psychological well-being.
That educates interested people like you in around 16 months to become a holistic nutritionist out.
Is this article worth reading?
Share this article
Notice on health issues
This information is passed to the best of my knowledge and belief. They are intended exclusively for those interested and for further training and are in no way to be understood as diagnostic or therapeutic instructions. We do not assume any liability for damages of any kind, which arise directly or indirectly from the use of the information. If you suspect illness, please consult your doctor or alternative practitioner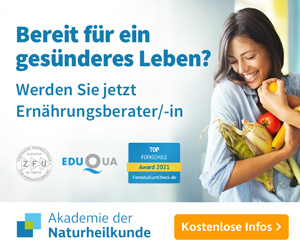 Subscribe to Newsletter
Exciting information about health and nutrition
1x per month
Login Successful. You will shortly receive a confirmation at the specified email address.
With your registration you allow the regular sending of the newsletter and accept the data protection regulations.
HEALTH CENTER © 2021 Neosmart Consulting AG. All rights reserved.