How is blind cricket played
Blind killer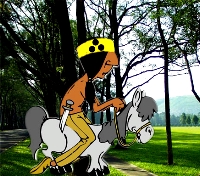 All blind fish
The number of "blind numbers" can be varied as desired, especially depending on the number of players. It is also extremely funny to leave all the remaining numbers in the game as blind fish.
More life
Especially with a smaller field of participants, it makes sense to increase the number of lives to 5 or 7, for example. In many regions, games are played with 8-12 lives, which can be quite exhausting and even boring for beginners.
Doubles and treble count
The game variant with doubles and triples is just as widespread as the basic rule opposite. In this case they count their normal segment value, i.e. double or triple. For a double hit, two lives of the corresponding number are deleted and for a triple it is three.
In this type of game, it is necessary to increase the number of lives to at least 4 so that one of the players does not have to be eliminated from the game on the first hit before it was his turn.
Blind professional killers
Advanced players like to agree before the game that only hits on double or triple fields are counted as hits.
---
Did you know already? A team that does not play 2 league games can be disqualified according to the league rule.
---